PUSD school board finalizes PE sports credit, hears Portola ball field proposal and honors local students
The Plumas Unified School District's Governing Board of Trustees voted on PE credit for sports participation, heard a new proposal for upgrading Portola High School ball fields and honored local students, among other business at its busy Oct. 11 meeting.
Students and staff honored
Convening first as the PUSD Board of Education, trustees Leslie Edlund, president; Joleen Cline; Dwight Pierson; and Dave Keller welcomed a new student representative and honored exemplary student conduct at the meeting held in the Portola Junior Senior High School library. Trustee Traci Holt, clerk of the board, attended by laptop on Skype.
Edlund administered the oath of office to senior Jordan Herbert, who will serve as the student representative to the board for PJSHS.
C. Roy Carmichael Elementary Principal Melissa Leal introduced the board to sixth-grader Liam Bowling for his "Principal's Recognition Award." Listing his impressive accomplishments and student conduct, Leal said, "Liam is kind, respectful and he excels every day at our school."
Portola High Principal Sara Sheridan was also pleased to introduce her "Principal's Recognition Award" winner, 11th-grader Austin Griffin, with help from popular teacher Karen Miller who told the board about Griffin's exemplary work.
"Austin arrives at school at 7 a.m., taking the most difficult classes we offer, "Miller said. "He is an exceptional writer and academic thinker."
Sheridan then presented Miller, a PJSHS English teacher, to the board as her featured educator.
"With 26 years of teaching, Karen is an exceptional teacher who gives 100 percent to her students and her scores are among the highest at our school," the principal said. "She mentors new teachers, tutors after school, advises for the junior class winter formal, spearheads our fall festival and much more. She also volunteers her summer vacation to do classroom makeovers for her fellow teachers and they love the transformations."
PE credit for sports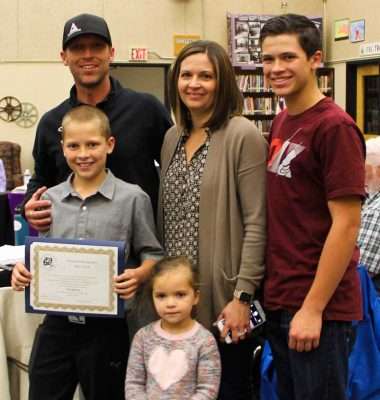 Reconvening as the Governing Board of Trustees, the school board finished up an item from the September board meeting, voting 5-0 to approve a change in board policy that will now allow 10th- through 12th-graders to earn PE credit for being in school sports. The credit will work out to one semester of PE credit for one semester of full participation in a school sport. The previous policy only granted two semesters of PE for three full school sports.
Portola ball fields proposal
The school board also heard a special presentation from local parent Mark Callahan who shared a proposal to upgrade Portola High's current baseball field.
Callahan, a Class-A golf course superintendent at Plumas Pines Golf Resort in Blairsden-Graeagle, brought forward a request to consider using Measure B funding to create a softball playing field that could be incorporated into the high school's existing baseball field. The goal would be to enhance safe playing surfaces for student athletes and Title IX requirements to offer access for female athletes who play softball.
In addition, Callahan suggested such a project could result in a multi-use area suitable for PE classes, outdoor classroom opportunities and community events.
"Portola High has no softball field and kids have to play off-campus for practice and games," Callahan said as he clicked through a PowerPoint presentation with images of ball fields located throughout Plumas County. He added that improving the Portola field would benefit all schools in the district because the teams play games at one another's campuses.
Callahan's family is an avid supporter of youth sports. He has 30 years of experience in the sports industry and was on the Feather River Little League board for over five years as both the safety officer and vice president. His son, Cody, is a sophomore who plays baseball and basketball for PJSHS.
"I'd also like to suggest to the board the possibility of offering a turf management class at Portola High," he said. "It could help meet the needs of Plumas County golf courses and I've taught this subject myself, so I know there is a definite need."
Attending the board meeting with Callahan was Mike Warden, president of Garden Shop Pro's landscape division in Reno. Warden and Callahan are volunteering their services on the ball fields proposal.
Board President Edlund and trustee Dwight Pierson expressed interest in seeing the proposal come back with timeline information. Pierson also asked if showers and locker room facilities might be part of the plan. Callahan estimated the improved fields would continue using Portola High's existing facilities for those needs.
Trustee Cline asked if the school coaches had seen it yet and Callahan explained he will show it to coaches soon.
Warden commented that he had already done "a couple of rough designs" and said that he is able to put together a rough site design and preliminary budget information for the board and district. Warden would provide the service at no charge and would include input from a landscape architect and civil engineer.
Edlund replied that she would like to see how potential project costs and a timeline could fit into the board's overall plan for Portola schools.
PUSD Superintendent Terry Oestreich offered, "We'll need to have J.K. Associates architects meet with you."
Measure B updates
Reviewing Measure B projects and funding updates with staff, the board heard informational items on repairs and work change orders.
Additional remediation and abatement work on the GHS gym was approved in the amounts of $43,490 for unforeseen mold and $52,463 for moisture barrier work in the gym floor crawlspace.
Superintendent Oestreich reported that the district's contracted architectural firm has "walked all of the Measure B project sites," and the next step is to sit down with the school board trustees and prioritize each project by community.
The trustees also heard a progress report about purchasing new 21st Century classroom furniture. Assistant Superintendent for Instructional Services Kristy Warren told the board that teachers involved in the PUSD pilot program for the furniture upgrades had made their selections and most favored either of two designs featuring rolling diamond-shaped desks with interchangeable student supply trays. Chairs with wheels are preferred, as well, to enable different configurations that make full use of the classrooms as learning spaces.
The board gave staff direction to obtain a contract to purchase $134,642 in new furniture that teachers will test and evaluate during the rest of the school year.
Classrooms participating in the pilot program include Quincy Elementary kindergarten and sixth-grade classrooms; a Greenville Elementary second-grade class, a Chester Elementary sixth-grade class, a C. Roy Carmichael third-grade class, a Quincy Junior Senior High School class and a Chester Junior Senior High School class.
School calendar decision
The Board made quick work of selecting a school instructional calendar for the 2018-19 year, choosing option C that provides a week at Thanksgiving, a Friday off before winter vacation and a four-day weekend in February.
Plumas Charter School
In other business, the board received a petition from Plumas Charter School to renew its charter. PCS Site Director Patrick Joseph submitted the petition and supporting documentation to the board and provided information pertinent to the application.
"PCS was authorized in 1998 and renewed three times," Joseph said. "We are now beginning our 20th year and our facilities updates are being planned for 2018-19."
Joseph added that several changes have taken place for PCS over the last five years, including significant growth in enrollment and having successfully submitted high school classes for approval.