Quincy Fire Academy is underway
The annual Quincy Fire Academy is underway, with 33 volunteer firefighters from Plumas, Sierra and Lassen counties participating. This is the 15th academy hosted by the Quincy Fire Protection District.
QFPD is the only fire department in Plumas County with a training facility that has all the necessary features, including a three-story training tower, a propane-fired live fire facility, numerous specialized props and a large classroom.
The facility is named after former Quincy Fire Chief Andy Anderson, who passed away last year. He and his wife Gayle donated the land for the facility many years ago.
The program is geared toward new recruits, and is based on the National Fire Protection Association standard for firefighter level-one training. California's State Fire Training Division of CalFire has adopted this standard, known as NFPA 1001.
"We sometimes have previous graduates return to go through the training again, since most of the fire departments do not have training facilities like ours," said Quincy Fire Chief and Academy Leader Robbie Cassou, "… and they are always welcome if we have space."
The Academy is operated on a break-even basis by Quincy, making sure the costs of materials and supplies are covered through a per-student fee paid by each fire department. This year two grants were received, the first for discounted firefighter textbooks (50 percent off the $60 list price) through the Fire Services Training Institute and Farmers Insurance.
The second grant will cover the costs of a special Live Fire Training weekend that is also open to all firefighters in the region. Firefighters may complete the training either Saturday or Sunday on the last weekend in April. This training came through the California State Firefighters Association grant from FEMA.
All instructors volunteer to teach each of the six Saturdays that are mostly hands-on training. There is some classroom training, including required homework that can be completed each week online, or in printed form if the student prefers. While most of the instructors are from Quincy, others come from throughout the county to help.
Many topics are covered, including fire behavior; firefighter safety; building construction; fire hose evolutions; knot tying and firefighting applications; structural firefighting, including roof operations; rescue; vehicle firefighting and extrication; water supply; and ladders. While the Academy does not complete the entire State Firefighter I training curriculum, it is intended to give enough training for recruits to safely conduct many firefighting operations under supervision.
"Additional training back at their own FD's is expected and highly encouraged, in addition to ongoing continuing education every year," said Cassou, "… there are many regional opportunities through the Fire Chiefs' Association and other groups, along with a growing number of online programs, many for free."
This year's academy will be completed May 6, with a graduation ceremony in the Quincy training room.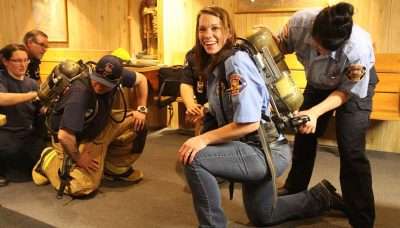 "The Quincy FD members are very generous and outstanding hosts to all of our fire departments every year," said Plumas County Fire Chiefs Association President and Graeagle Chief Ed Ward, "They are superstars in our local fire service, and we thank them very much."
Advertisement