Quincy Soroptimist awards honor outstanding community volunteers
Members of the Soroptimist International of Quincy devote themselves to public service projects — including the energetic Easter Egg Hunt, annual gardening efforts and a competitive scholarship program, just to name a few.
On May 22, it was the Soroptimists' turn to recognize the community contributions of others with their 10th annual "Local Women Making a Local Difference" awards.
"Our mission emphasizes service to women and children and we appreciate the support that the Plumas community gives us to help us hold our events, especially these awards," SIQ President Kris Miravalle told an audience of approximately 100 gathered at the Plumas-Sierra County Fairgrounds.
"We are active women who represent a cross-section of the business, professional and economic life of our area," Miravalle added. "We are women at their best, helping other women to be their best, and we sincerely appreciate the dedication of our volunteers and all those whom we will honor tonight."
Laughter, stories, applause and a few tears followed as 11 major awards were made and five special remembrance certificates were bestowed for the "Penny Pines" honorees whose families accepted the memorial recognitions.
History, girls and community
Velma Stockton welcomed Nansi Bohne to the podium as this year's winner of the Women in History Award, acknowledging her longtime commitment to education, service on the school board and board of supervisors, support for the establishment of Feather River College and many other public services.
Bohne joked about the old days of being known only by one's husband's name, Mrs. this-or-that, despite founding her own business, Plumas County Temp Services. "Hello, my name is Nansi," she said to a roomful of chuckles.
Mary Edwards smiled, too, as she presented the Women Helping Girls honor to Laura Miller for exemplary volunteerism to youth sports, Scouting, 4-H and much more. Miller teased that she thought perhaps her nomination had been a joke, and the audience roared.
Gayle Anderson brought entrepreneur Katie Bagby to the lectern with a lengthy description of the Quincy-transplant's public service, leadership and economic development accomplishments.
"This is such an easy community to make a difference in," Bagby said with thanks for the Women Helping Our Community Award. "We have a deep sense that we need each other. Soroptimists, your focus is on giving and that is so appreciated."
Distinction and education
Mara Beatty introduced restaurateur Holly Callahan of Pangaea Café to receive the Woman of Distinction honor for her sustained community support with fundraisers and more. Callahan thanked the SQI for their confidence and commended her family and employees for all they do.
"It takes a village to raise a restaurant and this community has supported us," Callahan said.
The outstanding work of Quincy High School Teacher Terrie Redkey was applauded when Sue Gutierrez presented her with the Women in Education award. Redkey's achievements include leading students to success in business education competitions, among others.
"My heart is in business and finance education because it takes our students out into the community and builds professional relationships," Redkey commented. "It's a privilege to live here, work here and teach your children."
Sunshine, S Club and scholarships
Perhaps it came as no surprise to anyone when Judy Dailey presented the bright, cheerful Dee Dee Driscoll with the Soroptimist Sunshine Award for her many community contributions, a partial list of which includes hosting the annual Holiday Lights Decoration contest, teaching Sunday school, promoting the County Block Party effort and helping girls through the international Philanthropic Education Organization.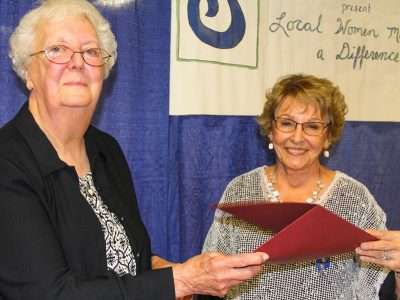 "I'm humbled and honored to receive this award," Driscoll said. "We work hard every day to make this a place where people are comfortable and happy to visit."
Kimberly Pilkington recognized Karen Hicks as Outstanding S Club Advisor this year for her leadership and support of the service club at Quincy High School, a post she co-chairs with QHS teacher Nicole Yoacham. Hicks was commended for her strong organizational and communication skills that contribute to the popular S Club's projects.
"This wonderful club started years ago so students could begin serving their communities early," Hicks said, acknowledging the Quincy High School club's big win at Soroptimist International this year. "So many students want to give and be of service, not play video games all day."
In another nod to the top-achieving S Club, Billie Bequette named QHS senior Emily Walmer as S Club Student of the Year, saying, "Safe Trick-or-Treat? That's our S Club. Blood drives, community Thanksgiving, that's S Club. We're so proud of them, we can't quit bragging about them everywhere we go (to conferences)."
Walmer, current S Club president, received a $100 scholarship check and said, "Thank you very much for sponsoring our club. I've really been able to see the value of what we do in our community."
Bequette had the additional honor of presenting the Violet Richardson Service Award to past S Club President Alison Hicks, also a QHS senior, who received a $500 scholarship award.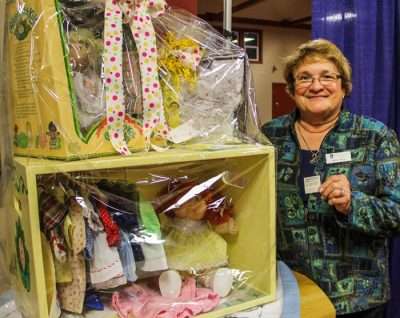 Thanking the SQI members, her family, teachers and others, Hicks said, "Volunteerism has helped me interact with my community. I feel motivated to inspire others to be of service and I'm grateful for this community, honored to be part of it. Thank you, Soroptimists, for being an organization that I can look up to."
Live your dreams
The year's recipient of one of SQI's most important honors was Roselyn Stanton, who received a $1,000 scholarship and the Live Your Dreams Award to continue her education.
President Miravalle, standing in for member Tracy Wixted who was missed at the event, awarded the honor, saying, "This scholarship helps women in their role as primary wage earners, rebuilding lives and obtaining higher education."
Stanton hugged Miravalle for a long moment and said, "I'm excited and honored to receive this award. It will certainly aid my goals for further education and I have quite a journey ahead of me. Thank you."
Penny Pines in Remembrance
As the evening was nearing its close, SQI presented a series of Penny Pines Certificates in Remembrance for community members who have passed away but are greatly appreciated for their longstanding support of people, places and projects.
Tears were mixed with humor and stories as the awards were made to the families of Steve Tolen, Butch Vargas, Larry Markham and Marilyn Bergum. Jack Brown, executor of the estate for Welles Clarke Jr., accepted the memorial award on behalf of the generous man who was affectionately known as Capt. Carl.
Soroptimist of the Year
Advertisement
Velma Stockton returned to the podium to praise Kris Miravalle as SQI's three-time president, naming her Quincy's Soroptimist of the Year to a standing ovation.
"Most of all, this woman stands up and volunteers for whatever this club needs, whatever this community needs," Stockton said, smiling. "She's served three times in every single office we have!"
For more information about becoming a Soroptimist member, contact Joyce Scroggs at 283-0795.