Raymond DeShazer, or Deaf Ray as many knew him, passed away on February 8, 2023, at home surrounded by family after a long battle with lung disease. He was born July 8, 1961, in London, England.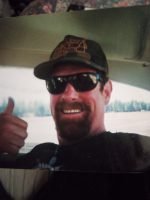 He grew up in San Diego where he made lifelong friendships that remained strong until the end. Ray moved to the Bay area, and worked construction, despite having a disability. After a few years, he helped a friend move to Plumas County, where he fell in love with the mountains and people. He was an avid fisherman and loved the outdoors.
He met and married his wife Joanna in 1998, and went on to have three children: Max, Sam and Neesa DeShazer. They were married over 24 years and had a good life filled with laughs, love and a beautiful rural community that blanketed the family in support and strength.
He is survived by his wife Joanna and all three children, all of which are from Quincy; two amazing sisters, Edna from Walnut Creek and Debbie from Oregon; several nieces and nephews and two large dogs that miss him.
He is preceded in death by his parents, Ray and Elizabeth DeShazer. A celebration of life is being planned for the near future, and will be posted for all who would like to attend.