Remembering artist Pat Kurtz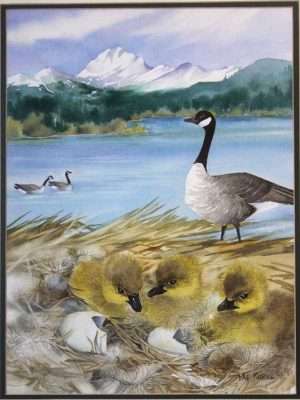 The sign for Pat Kurtz Art Studio has been visible hanging on a building along Highway 147 on the east shore of Lake Almanor for over 50 years.
Renowned artist Patricia Kurtz passed away June 25 at the age of 91. Those who wish to view her watercolors and drawings can find them on the website at  patkurtzmemorial.weebly.com.
Kit Kurtz, a watercolor artist and illustrator herself, said that for her mother, "Art was a way to express the soul of a person as a quality of God; her way of expressing the spiritual. … It was the beauty she saw in nature, and art was a way to capture that beauty."
In an interview at Pat's studio her daughter Kit and her granddaughter Roya Sabri spoke of Pat's life as an artist in Plumas County and how she contributed to the development of the arts in the area.
Pat was born and raised in Hilo, Hawaii. After attending Principia College in Elsah, Illinois, as an art major, Patricia Lindgren (soon to be Kurtz) moved to the Mountain Maidu country of Indian Valley in Plumas County after the Second World War, where she taught art at Greenville High School.
"She loved the beauty of Indian Valley," Kit recalled her mother telling her, and used her talent for watercolors to produce many pieces of artwork depicting the beauty of the region.
Patricia Kurtz was personally influenced by nationally-renowned watercolorist and teacher James Green at Principia College. She added, "and of course by most of the famous Impressionists like Monet and Van Gogh."
A year after moving to Greenville, Pat married Cornell Kurtz and he also got a job teaching sixth grade at Greenville High.   
Kit's mother quit her job at the high school and continued painting watercolors privately, since during that period before women's rights were in full affect, "married couples were prohibited from teaching at the same school together."
Pat chose the next few years developing her craft while raising her daughter Kit.
In 1958, both Pat and Cornell spent a year teaching in Taiwan and also took advantage of an opportunity to teach together in Japan in 1962 at the Nishimachi International School in Tokyo for three years. Drawings and watercolor sketches from these earlier times are available to view on the website as well.
Upon returning to Plumas County, Pat offered art classes, and remained highly influential in the art scene through the remainder of her life.
"Norma Allen at Lassen View Resort had just started an art show and asked my mother to help organize and run it. … So for many years starting in 1966 through the late 70s, she ran the Almanor Art Show," said Kit. The show emphasized local artists and their works and is now under the auspices of Plumas Arts.
Patricia and Cornell are also founding members of the Plumas County Museum, which opened in 1967 in Quincy.
At this time, Pat turned her focus full-time to her art studio to paint and provide classes for both local and non-local art students.
In addition to teaching privately to countless pupils at her studio location, she also taught art classes for Feather River College and Lassen Community College, as well as art and craft classes at Westwood High School.
Colleague and friend of 40 years, painter and pottery maker Jacquie Cordova, taught classes in watercolor and drawing with Pat in the fine arts building on the Lassen College campus when it first opened in 1981.
"Her students found her to be a source of inspiration and joy," Cordova recounted, "and to this day, I've talked with many of her former students who still remember her fondly. … She will be missed by the art community."
Advertisement
Cordova, a co-op member of the Blue Goose Gallery of Artists in Chester, said Pat was also instrumental in her own development as an artist.
Pat was a highly successful and prolific artist whose   paintings over the years have been adding to the collections of art aficionados in the local community, throughout California and internationally. She remained productive into the 1990s.
"She exhibited her artwork at numerous art shows and galleries across a broad region," Kit said, gaining recognition wherever she went.
She was not only influential in the various organizations she began or participated in, but also in the artistic endeavors of many young artists who looked up to her.
Patricia Kurtz is also recognized for her books, the first titled "Mountain Maidu and Pioneers; A History of Indian Valley, Plumas County, California, 1850-1920," published in 2010, and "Our
Precious Legacy; Mountain Maidu Baskets from the Meadows – Baker Families," basically a catalog of Maidu baskets that are used at the Maidu Museum in Roseville. Copies of her first book are available for sale at the Taylorsville, Greenville and Quincy museums.
A third book, titled "Picking Willows: Daisy and Lilly Baker, Maidu Basket Makers of Lake Almanor," recalls her friendship with Maidu basket weavers, sisters Daisy and Lilly Baker, published in 2011. Her books can be found on Amazon.com.
She wrote books because, along with art, "She was also deeply interested in history," Kit pointed out. "Many people still cite information from her books as reference sources to this day."
Sabri said she's trying to post as much of her grandmother's art on the website as possible and hopes people who own Pat's work might take a photo to post on the site by sending it to: [email protected].