Rotarians distribute dictionaries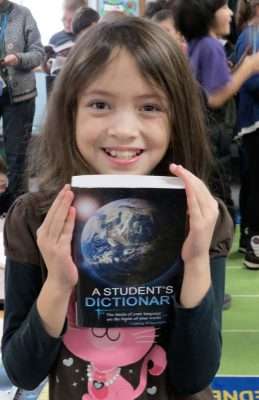 Third-graders throughout Quincy now have new dictionaries thanks to the Rotary Club of Quincy.
The Rotarian tradition of distributing dictionaries continued Jan. 26 as three members of the club visited classrooms. Jim Boland, the retired local recreation district director; Fred Surber, the retired ag commissioner; and CHP Commander Sarah Richards handed out the volumes that each included the name of the student on a nameplate tucked inside the front cover.
"Our purpose today is to help you become more powerful and knowledge is power," Boland told the students.
He also presented a brief overview of the Rotary Club and some of its accomplishments — both locally and internationally — and then discussed what was included in their new dictionaries.
In addition to words and definitions, the books contain the Declaration of Independence, maps of the seven continents, information about the 50 states, sign language, facts about the solar system and biographies of the American presidents through Obama.
Boland asked the students to look up the words "optimism" and "inclusive." And they complied, learning to spell the words and discovering their meaning.