Santa Train chugs through another festive celebration
The Western Pacific Railroad Museum held its 25th annual Santa Train over three weekends: Dec. 2 and 3, 9 and 10, and 16 and 17. The event attracted a great turnout with hundreds of people.
Attendance was steady on the first two weekends, with inclement weather keeping some at home, but on the third weekend, which was added for the first time this year, attendance skyrocketed and the trains were packed with festive folks of all ages.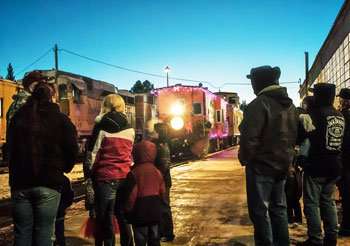 According to museum gift shop manager Elise Tiffany, the third Saturday of the event was "the best in WPRM Santa Train history." She went on to say, "We had more than 150 carloads that night, and it was so exciting. The turnout was more than we could have hoped for."
The Santa Train gave people the option to pay admission one of two ways: $10 per carload or $5 per carload with three or more canned or non-perishable goods to go to EPCAN.
Nancy Meyers of EPCAN said, "We received a very generous amount of food this year from the donations at WPRM. In fact, it's such a large amount that we are still counting it." All of the canned goods and non-perishables collected go to families in need in the community.
Friday Night Live, a sobriety-driven youth program provided through Plumas County Public Health, had a presence at the event, with young volunteers handing out snowflakes and helping kids decorate them, as well as writing letters to Santa.
Danielle Blust, Friday Night Live advisor in Portola and a Portola High School graduate, spoke about their participation in the event, saying, "We are really happy to be here, as we were at the Pumpkin Patch Express also, and the best part of being a part of these events is seeing how happy the kids are. Not only are we able to help the kids with decorations and letters to Santa, but we are also selling hot chocolate mix and chocolate chip cookie mix, with the proceeds going to the Portola Crisis Intervention Resource Center because they let us [Club Live youth] meet at the PCIRC building for after school meetings." The Club Live group volunteered at all three weekends of the Santa Train and look forward to the next event.
With hot cocoa, cookies and treats in little hands, families warmed themselves in the California Zephyr train car in between rides, and some families rode more than once.
Steve Habeck, president of WPRM, could be seen making the event merry for all comers as he participated in the Santa Train.
Habeck said, "It's all about making the kids happy. You can just look at their faces and see how excited they are to be riding the train and meeting Santa Claus. That's really what it's all about."
Habeck kept tradition on the 25th anniversary of the Santa Trains and, with his family, decorated the seven cars with brilliant, twinkling lights and garlands, as well as decorating the inside of the cars where Santa Claus waited to meet children. Crowds of people gathered to get the sweet treats on offer and look forward to next year's Santa Train rolling back through town.
WPRM is a nonprofit organization that relies upon memberships, donations, and events such as the Santa Train to keep the trains rolling. For more information about the museum, visit wplives.org or contact via phone at 832-4131.