Second annual Grebe Festival largest yet
Sponsored by the nonprofit Plumas Audubon Society headquartered in Quincy, the second annual Grebe Festival at Lake Almanor and around Chester brought scores of people together to participate in several events and programs to raise awareness of the fascinating grebes and their habitats in Lake Almanor and Eagle Lake.
Other field trips during the festival took participants to explore wildlife and the cultural history at Mountain Meadows, Willow Lake, Lassen National Park and Susanville Ranch Park.
Over the span of three days, Aug. 18 through 20, festival attendees took pontoon boats and kayak tours near the shoreline to view nesting grebe colonies and walked around Chester Meadows, the Olsen Barn and along the North Fork Feather River. Two trips discussed Native American ancestral sites of Humbug Valley and Big Meadows, where the Maidu lived before the Lake Almanor reservoir was created.
Inside the festival's headquarters in the Almanor Recreation Center in Chester, there were family activities all day Friday, Saturday and Sunday, including free exhibits, literature, a display of the K-12 student Grebe Festival Art Contest submissions, including this year's winners, along with grebe-themed children's games and crafts, providing fun for the little ones.
A silent auction and social mixer was held on Saturday at the center to raise money for the Plumas Audubon Society for various programs and community activities.
While bidding was open, attendees could enjoy a beer from local brewery Waganupa Brewing or a glass of red or white wine. Bidders listened to a live musical performance by Passive & Co. during the auction.
Merchandise for sale at the center staffed by volunteers is also available in the Plumas Audubon's store in the Quincy office.
There were multiple drawings for prizes throughout the festival weekend. A banquet was provided at Carol's Café in Prattville, with keynote speaker Dr. Gary Ivey, who gave a talk on grebe conservation and methods to protect nesting colonies.
Additional outdoor adventures offered at the festival focused on the beauty of the natural world, with North Fork Feather River riparian bird walks and other birding opportunities, field journaling in area wildlands and a walk around the Olsen Barn and meadow.
The festival featured photography and drawing workshops, and a screening of the documentary, "John James Audubon and Birds of America" at Mt. Lassen Theatre in Chester.
This year, local artists welcomed passersby to watch them paint next to Cravings Restaurant in Chester and near the public access point to Chester Meadows during the Plein Air Tour des Artistes event.
The artists donated their pieces to the silent auction when they were finished. Suzanne MacDonald, a volunteer on the Grebe Festival planning committee said she would like to thank the artists on behalf of Plumas Audubon Society for their contribution and for helping make this event a success.
The National Audubon Society recognizes Lake Almanor as an Important Bird Area because of the diversity and abundance of birds found there year-round. In particular, the lake supports the second largest breeding grebe colony in California.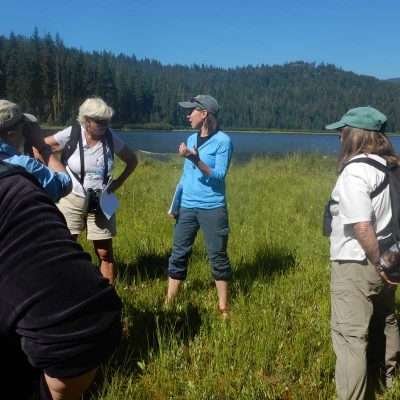 The unique Western and Clark's grebes are known for their "rushing," part of the bird's courtship display where two grebes dash side-by-side across the water.
Grebes nest on floating mounds of vegetation in pond weed, cattail and willow, and are susceptible to fluctuating water levels on managed reservoirs and large wakes from passing boats.
Plumas Audubon Society sponsors the Grebe Festival to "promote understanding, appreciation, and protection of the biodiversity of the Feather River Region through education, research and the restoration and conservation of natural ecosystems."
Sophie Kissin, festival coordinator for Plumas Audubon Society, said, "We had a great showing for our second annual Grebe Festival this year with approximately 200 attendees who arrived just in time to see a new colony of grebes building their nests near the causeway."
She said the Plumas Audubon Society would like to thank everyone who participated for supporting the cause, as well as the volunteers who helped make the festival happen.
"We hope the local businesses got a boost from the visitors who enjoyed everything Chester and the surrounding area has to offer. Thank you, Plumas County and we hope to see you next year."