Sewing classes open to all skill levels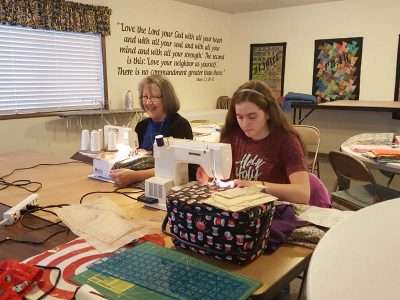 Introductory sewing classes are now available for people to get together at the Wesleyan Church on the corner of Frost and Gay streets in Chester to learn how to sew a variety of items, from backpack-type bags, to aprons, pajamas, pillow cases, kitchen curtains, as well as lessons on how to mend clothing, sew on buttons and much more.
"We have everything people need, including supplies, material and sewing machines for those who don't have their own," said Andrea Towle, a retired home economics teacher with 25 years of sewing experience. She leads classes on Mondays only, from 9 a.m. to noon and 6 p.m. to 8 p.m.
The free classes are open to men and women, and boys and girls age 12 or older. "There's plenty of space for everyone," Towle added.
"The classes are a great way for people who would like to brush up on their sewing skills, or for those who are more advanced to have fun."
For questions about the sewing classes, which are scheduled until summer — rain or shine — call Andrea Towle at 916-276-1824.