Sierra Institute counts the fourth annual PCREW summer a big success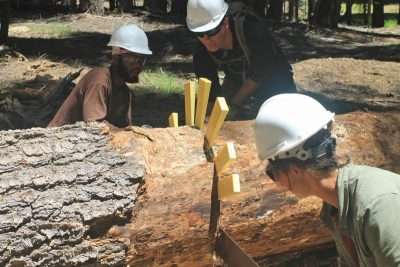 Summer might be over, but at the Sierra Institute's PCREW coordinators are still thinking about the summer.
Their summer program that is. Summer 2018 marked the fourth year in which Sierra Institute "scrambled together teenagers from the local towns of Plumas and Lassen counties, and various cities from the Bay Area to come and enjoy the wonders of the national forests," said assistant coordinator Irshad Stolden.
Each year, Sierra Institute hires "this special blend of teens with diverse backgrounds" as part of their PCREW (Plumas Conservation Restoration & Education in Watersheds) youth corps.
Each teen commits to five weeks of full time employment in the Plumas and Lassen national forests learning about what forestry work entails as they do various jobs relating to sustainability and restoration.
This summer marked a change in the program. Instead of having two crews working — one at the beginning of the summer and one at the end — partnering with the Forest Service and Feather River Land Trust meant they had two crews at a time working in each national forest for a total of four crews.
The students assigned to Lassen National Forest focused on fuel reduction projects with cross-cut wood sawing and hand-piling.
Students assigned to Plumas National Forest focused on "fuel load reduction and trail building along with maintenance of older trails.
The four crews completed projects in Butterfly Valley, Round Valley, Caribou Wilderness, Sierra Valley and other locations.
"After it's all said and done, the biggest take away from this experience is the sense of accomplishment each member of the crew takes home with them. Each participant of this program comes into it with little to no knowledge of what they're getting in to, yet nearly all of them leave with a new understanding of nature, and the industries related, as well as the satisfaction of personal growth and money," said Stolden.
Applications for the annual program are made available to high school students every spring.