Soroptimists present awards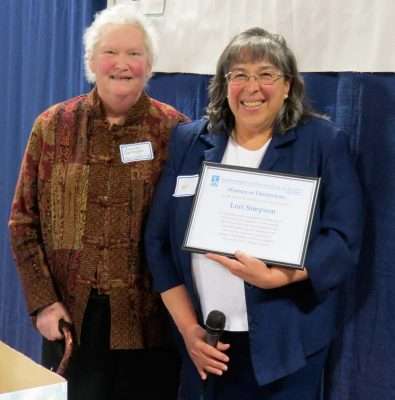 Quincy Soroptimists honored "local women making a local difference" during an awards dinner May 16 at the fairgrounds.
"Tonight is one of the most meaningful and heartfelt nights," said Soroptimist President Melodie Bennett as she welcomed award recipients to the event.
Spring flowers decorated the tables as the award winners and their guests enjoyed a meal prepared by Caron Chance of Back Door Catering.
Eleven awards were presented during the evening.
Bennett presented the first award to Jennifer Ready who runs the Girl's Rite program under the auspices of Plumas Rural Services.
"I feel honored to do this work," said Ready as she accepted her certificate.
Soroptimist Ruth Jackson presented Linda Moore with the Women Helping Our Community award for her work with the Quincy Community Supper. Jackson estimated that Moore has helped serve 200,000 meals since she began working with the program in 2000.
"It would not happen without her ongoing effort," Jackson said.
Moore thanked her husband Joe for being patient while she was away and then said, "I was taken aback when I got the phone call. If I can bless somebody's heart every day, that's my goal."
Billie Bequette presented several awards during the evening, but the first was to speech pathologist Carol Miles for her work with students —from children to adults.
"Receiving an award for something I love doing every day is really an honor," Miles said.
Krissy Bauer, owner of the Knook in Quincy, received the Soroptimist Sunshine Award from Kris Miravalle. Bauer's friends and family sang a chorus of "You Are My Sunshine" as she accepted the award.
Advertisement
Soroptimist and former Plumas County Supervisor Joyce Scroggs presented the Woman of Distinction Award to current District 4 Supervisor Lori Simpson.
In accepting her award, Simpson described Scroggs as a "great mentor to me."
Simpson joked about a "politician" taking to the podium, and then thanked all of the women in the audience for their contributions and acknowledged her mother, daughter and sisters.
Penny Pines awards were presented in memory of Andy Anderson and Judy Wright. During their weekly meetings, Soroptimists donate their spare change to fund the award. The Forest Service will plant one burned acre with new trees per award.
Billie Bequette presented the Violet Richardson Service Award to Sylvia Wood. Though just a sophomore in high school, Wood has already been involved in or begun major service projects. In addition to a certificate, Wood received $500.
Tracy Wixted presented Tiffany Nicole Barron with the Live Your Dreams Award and a check for $1,000. Barron is the mother of five and has begun a new career.
Quincy High School senior Gracie Yates received the S Club Student of the Year Award, which was voted on by her fellow club members. Yates has been involved in a host of service activities and is also the student body president.
"S Club has been a really important part of my high school years," Yates said. She plans to study psychology at U.C. Irvine in the fall.
In presenting the Soroptimist of the Year Award to JoAnn Prince, Adrienne Bennett described her work with the American Cancer Society's Relay for Life, her career as a business owner and dubbed her the "Queen of See's Candy Sales." Prince received a standing ovation as she made her way to the podium to accept her award.
The awards
Woman of Distinction: Lori Simpson
Soroptimist Sunshine Award: Krissy Bauer
Advertisement
Women Helping Girls: Jennifer Ready
Women Helping Students: Carol Miles
Women Helping Our Community: Linda Moore
Live Your Dream Award: Tiffany Nichole Barron
Soroptimist of the Year: JoAnn Prince
Penny Pines Reforestation Project: Andy Anderson and Judy Wright
Violet Richardson Award: Sylvia Wood
S Club Student of the Year: Gracie Yates