Sparkle brings in a record-sized crowd amid freezing temperatures
The Quincy Chamber of Commerce Sparkle was packed with festive attendees bundled and ready for a crisp evening celebration.
Hundreds of adults, children and decorated dogs filled the streets of Quincy in anticipation of Sparkle.
Shops kept their doors open after 5 p.m. to welcome Sparkle shoppers, entice them with hot drinks and sweet treats, and show off all that local businesses have to offer for holiday shopping.
The electrical parade, led by a California Highway Patrol vehicle playing holiday tunes, held the attention and revved the excitement of residents and visitors that crowded sidewalks. Familiar with the tradition, everyone waited in anticipation for the parade to come around a second time.
Smiles were witnessed on every street block. Businesses were full with window shoppers and those getting a jump on their holiday shopping as well.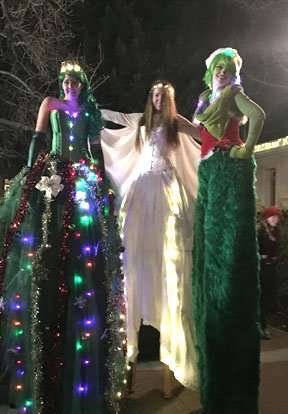 Tacos, tri-tip sandwiches and soup in bread bowls were just a few of the food offerings that kept people on the street instead of heading home for supper after the parade made its rounds.
The line for children of all ages to have a word with Santa was at record length. An abundance of community calm and contentment seemed to fill the air. Even the children seemed happy to wait, perhaps less sugar this year.
Rhythm and Grace Dance Studio across the street from the courthouse was packed with people squeezing in to view the young performers indoors this year.
Musicians performed in front of the Town Hall Theatre and free books were offered from the Friends of Plumas Library right on the street.
Quincy Chamber offered a hot chocolate bar on Main Street inside the location of the new Quincy Pharmacy anticipated to open its doors for business this spring. Another new Main Street storefront business opened its doors for the first time nearby during Sparkle: Feather River Outdoors featuring sporting equipment specifically for Plumas sport adventures.
Music poured out into Grover Alley from the Back 40 band playing at the Drunk Brush, which was filled to the brim.
Main Street Gallery went all out with featured artists for Sparkle. An incredible collection held patrons inside for extended visits pondering the art and snacking on the treats.
Actually, all the stores downtown were filled to standing-room-only as this writer went door-to-door witnessing restaurants, packed sidewalks and businesses of all sorts experiencing maximum capacity during Sparkle 2016.
The push to fill downtown storefronts with viable businesses seems to be succeeding as nary an empty window can be found this December.
For more information on Quincy Chamber events, activities and membership go to quincychamber.com or contact new Chamber President Matthew Kitchens at The Toy Store on Main Street.
Sparkle 1xa
Christmas spirits' ethereal glow sparks interest on the courthouse steps Dec. 2 before the lighting of the Quincy Christmas Tree. Photos by Marie Erin Roth
Sparkle 1xb
Sparkle 1xc
Plumas District Hospital Volunteers Denise Pyper and Linda Little set out treats at the Bargain Boutique for Sparkle holiday shoppers. The shop is staffed 100 percent by volunteers.
Sparkle 1xd
Friends of Plumas Library offer free books on a magical night to passersby during Sparkle on Dec. 2 in downtown Quincy.
Sparkle 1xe
Quincy downtown sidewalks are overflowing with cheery and warmly dressed folk energized by the traditional Sparkle Electrical Parade.
Sparkle 1xg
Santa listens carefully to Marcus Martin, who is obviously a very good little boy, while he describes what he hopes to find under the Christmas tree this year.