Stars shine in annual Follies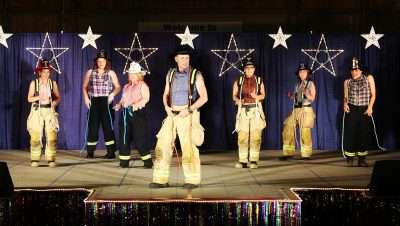 Capacity crowds greeted the four performances of the eighth annual Quincy Star Follies held April 27-28 at the fairgrounds.
This year's event, which benefits the Feather River College Foundation, featured a 178-member cast of all ages.
Organizer and emcee Lisa Kelly said that this year's show was unique in that it featured the largest cast ever, and youth outnumbered adults for the first time.
"The first year we were pleading with youth to participate," Kelly said. "This year we had so many students, we had to add a couple of extra numbers."
But all those kids made for a festive atmosphere at the fairgrounds, where they camped out at the Mineral Building between their appearances on stage. "I really want to thank all of the parent volunteers," Kelly said.
This year's show included 27 numbers, beginning with "The Greatest Show" led by Nick Polzak and concluding, as has become tradition, with Frank Carey leading "God Bless the USA."
Kelly began working on the show last November. After organizing the event for eight years, she has adopted a new model: Start as early as possible.
She works with Don Hertel, who stages other shows in the state, and then she customizes the local show.
"Casting takes me a long time, but it's so much fun," Kelly said.
She also works with local choreographers for each of the dances.
Advertisement
Joining Kelly in the organization were committee members Kris Miravalle, Nancy Gambell, Lisa Grant, Frank Carey and Karen Pierson, along with a host of others who make the event a success each year.
The event typically nets $10,000 after costs and this year was no exception. The event drew 1,200 in attendance over the two-night, four-performance run.
"It takes a village to put on Follies," Kelly said. "I want to thank everyone involved because it takes a lot of personal time and a lot of commitment."
Kelly has a few months off, but soon she will begin planning for the Follies' ninth production.