STEM classes at Charter School lead to creative projects and solutions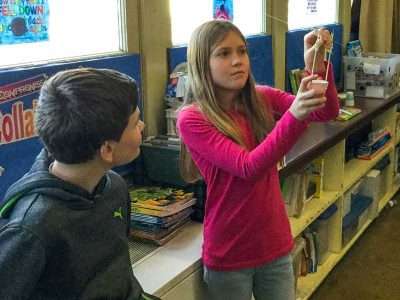 Students have a great curiosity about how things work and why they do. That makes it fun and challenging to teach them about STEM subjects — a curriculum based on the idea of educating students in four specific disciplines: science, technology, engineering and mathematics.
For inspiration and guidance, one can refer to Elaine J. Hom, who wrote an informative website article for LiveScience.com titled "What is STEM education?"
Hom states, "STEM uses an interdisciplinary and applied approach. Rather than teach the four disciplines as separate and discrete subjects, STEM integrates them into a cohesive learning paradigm based on real-world applications."
I teach fourth and fifth grades at Plumas Charter School and, as an elementary school educator, these subjects can be somewhat intimidating.
I am not a scientist, engineer or expert in these areas, so it can seem somewhat daunting to "teach" them to students. Despite my concerns, I recognized the need for them in my classroom.
Once I got over my initial fear of these subject areas, I began to research the myriad resources available to educators in the area of STEM. I became excited!
I do not need to be an expert. I can learn right along with my students.
At PCS on Friday afternoons, students are given the opportunity to complete STEM challenges. They are given parameters for the challenge and supplies. They have built creative projects such as gumdrop shelves, catapults and zip lines.
Students use the design process to help them organize and design their prototype. Then they experiment and redesign based on the results. They are encouraged to collaborate with each other and share ideas.
Our most recent challenge was to build the tallest tower possible with 25 straws and masking tape.
I am proud of our students because their enthusiasm was contagious as we learned together about velocity, speed, weight distribution and other scientific concepts. Thank you, Elaine J. Hom for inspiring us with confidence to tackle our STEM projects.