Stephen O'Connell
October 30, 1945 – April 27, 2022
Steve passed peacefully early in the morning at home with his loving family Wednesday, April 27. He is survived by his wife Sandrann and their four children Cailan, Sofia, Patrick, and Nizhoni O'Connell. It was Steve's great love for mountains and the expansive natural beauty of Plumas County that sparked the decision to move and raise his family here in 1989.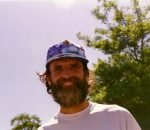 In life, he was a passionate supporter of the arts and enjoyed drawing, playing music, writing stories and poetry, and creating sculptures from natural and found objects. Steve was a skilled wood worker who had developed a love for folk art and toys during his time living in Columbia as a Peace Corps volunteer where he taught track and swimming and in Mexico as a student and traveler. He found a lot of pleasure in making wood art including kids' playhouses, doll houses, replica barns, sculptured animals, and art pieces that invited the viewer's participation in wonderment. He made multiple trips to Latin America with friends which he recounted with great fondness over the years.
As a father, husband and friend, Steve was loving, generous, immensely supportive, and incredibly humorous. He firmly believed in maintaining one's sense of curiosity, worldly awareness, imagination and creativity, and that following one's dreams is a most beautiful path to take in life. His kind spirit will be missed by his friends and family.
The family plans to host a celebration of life gathering and potluck at the Taylorsville Campgrounds at 2 p.m. on Saturday, June 4th, 2022. All are welcome. More information will be posted at the bulletin boards at Taylorsville and Quincy post offices, Evergreen Market, and the Quincy Co-op. You may reach the O'Connell family at [email protected]