Sterling Sage celebrates 20th anniversary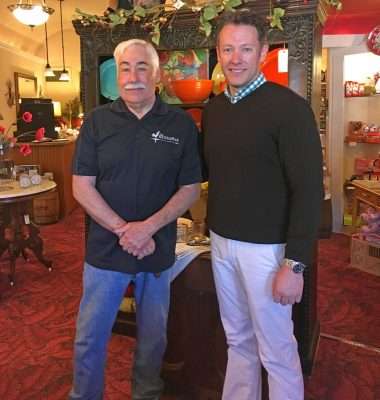 Head down Main Street toward Round Valley Lake on a bright spring morning and you'll probably see Bink Huddleston sitting in a chair outside Sterling Sage. People strolling downtown are apt to sit in the chair or stand and chat with him awhile. He'll tell some great old stories or share the latest of what's going on downtown. Customers enter the shop, and come out with something nicely wrapped by Josh Huddleston.
The father and son business is officially 20 years old this spring. The younger Huddleston was just 17 when they started the business. Shopping for antiques and bidding at estate sales had been a hobby for the teenage Huddleston — something encouraged by the elder.
"Little did I know our hobby of shopping for antiques would turn into a full-time affair," said Josh Huddleston. He can't think of anything else he'd rather be doing. They pride themselves on having various price points and a tasteful "something for everyone" sort of vibe.
"Today, men that were once boys coming in to buy jawbreakers are now coming back to buy engagement rings," said Josh Huddleston.
Both father and son agree that the best thing about the business has been the people they've connected with. Most of their closest friends they've made in the past 20 years have been those who've walked through their door. "When you enter Sterling Sage you are more than a customer, you become a part of our ever growing family," said Bink Huddleston.
There have been some changes over the years. The store was originally located down the street. Up until about seven years ago it was called Main Street Antiques. It's currently housed in an historic 114-year-old building — once the Owl Saloon — boasting a bordello along with whiskey libations.
Many around the county know it to be the place to go for jewelry — or to have old jewelry fixed. Jeff Titcomb is on hand on Fridays and designs his own jewelry for customers.
The shop carries a mix of home furnishings, gourmet foods and candies, candles and gifts. "If three people come in the store looking for a particular item, we start carrying it," said Bink Huddleston.
They also carry artwork made by local artists and artisans.
Both father and son are active in the Indian Valley Chamber of Commerce.
The Huddlestons plan on many more years to come at their spot on Main Street.