Storm damage heads up board agenda
Bob Perreault, director of the Plumas County Public Works Department, reported that his estimate of storm damage to county roads and bridges, up through last week, was $694,000.
Giving testimony at the Feb. 7 board of supervisors' meeting, Perreault stressed that this amount is certainly an underestimate, as many areas of the county cannot be accessed due to deep snow and the rains just keep coming.
Other departments are keeping their own damage assessments.
He hoped that most of these repairs will be paid for by the federal government through the Federal Emergency Management Agency.
Emergency communications
Sheriff Greg Hagwood let the board know that  he had to purchase critically needed communications hardware.
Hagwood said the county's communications infrastructure could, "best be described as held together right now by bailing wire and duct tape. … To not take this action, I think, would have been a derelict of duty on my part."
If federal disaster relief comes through, Hagwood estimated that those funds would cover 94 percent of the costs of the new equipment.
Naming mix-up in Greenville
During the public comment period, Heidi Bunch asked the board to finally resolve the issue of what to name the street in Greenville variously called South Main Street or Round Valley Road.
She noted that this mix-up is a public safety hazard as ambulances and other emergency vehicles have a hard time finding homes on that street.
Bunch reported that when her dad needed an ambulance, it took 30 minutes for an ambulance from Greenville to get there, rather than the five minutes it should have taken if they had known where to go.
Bunch has been working with the county on this issue for months and would like the board to resolve the issue.
Students visit board of supervisors
The winner of the annual League of Women Voters essay contest, Gynell Higby, and a host of other students filled the board's hearing room to overflowing.
Gynell, from Chester, was given $200 as the first-place winner of this year's contest with the theme "the death penalty." Rylie Botts from Greenville, Rosalie Houser from Westwood (Chester High)
and Elizabeth Bereznak from Chester were honorable mentions.
Chairman Lori Simpson was excited to have the students visit the board meeting and encouraged students to attend more meetings.
"I am always amazed at young people and the research and thought that they put into their ideas and opinions."
Director of Social Services Elliott Smart added later, "Getting young people interested in local government is the key to getting them involved in government and getting things done."
Advertisement
The students had a chance to see democracy in action.
Citizen Action
Jack McLaughlin of Crescent Mills passed out information to the board arguing that the McCarran-Walters Act of 1952 prohibits Muslims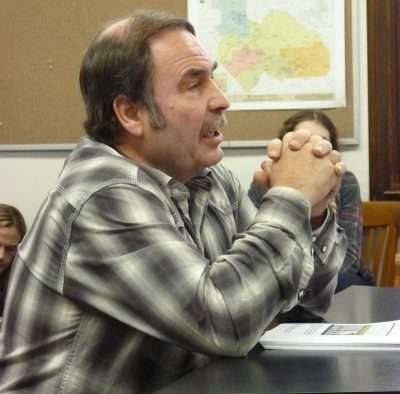 from gaining entry into the United States because they are required to have complete submission to Allah
and because Muslims seek to overthrow the government of the United States.
He also pointed out existence of plans for the genocide of white people through mass immigration.
Faith Strailey, and several other speakers, appealed to the board to resist federal efforts to register Muslims. They also appealed to the board to declare Plumas County a "Sanctuary County" for
immigrants and for the county to host Muslim refugee families.
Plumas Charter School wants their own building
During the public comment period, Taletha Washburn, executive director of Plumas Charter School, appealed to the board to make a code change for 424 North Mill Creek Road in East Quincy to allow the school to purchase and use that building as their permanent home in Quincy.
The building is currently zoned light industrial, which precludes the school using the building without a code change. Washburn pointed out that five other counties have let schools use buildings in areas zoned for light industrial.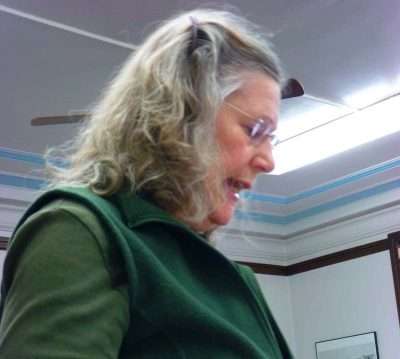 Gansner Park River Pathway
The two year-old Gansner Park River Pathway is in need of repairs, but there are no funds currently allocated to maintain it.
According to Dony Sawchuk, director of county facilities and airports, the soil where the path was built is perennially moist, forcing cottonwood tree roots close to the surface.
In turn, the cottonwood roots are pushing the pavement upward causing a safety problem that needs addressing.
The county can use a piece of equipment called a zipper to grind down the rising pavement. However, as Supervisor Jeff Engel pointed out, "You can zipper the surface until there is no surface left to
zipper."
Supervisor Lori Simpson pointed out that the pathway is very beautiful and is very popular with people. So, there's the dilemma.
The board asked county public works and facility services to study the situation and come back with an estimate for repairs and a long-term solution.
The pathway is located between Gansner Park on the north and the Spanish Creek and the Quincy airport on the south. The path runs from Beskeen Lane on the east to Highway 70 to the west.
The county received $160,900 for design and construction of the river pathway, which was finished two years ago in Nov. 2014.
However, there was no provision for long-term maintenance.
The county is obligated by contract to maintain the pathway until at least November 2024.
New jail
If first you don't succeed, try and try again … and do it better.
  That seems to be the tact that the sheriff's office is taking in obtaining funding to build a new jail.
The county applied for funds for a new jail last year, but wasn't selected for funding.
Hagwood said the county has done its homework this time and is coming back with a much better application.
Hagwood stated, "The odds are good and our application is better."
There are 15 counties in the small county category and there will be six awards.
Last year, eight to 10 of the 15 counties applied for funds. However, some of the winners turned the money back because they couldn't afford the salary and operational costs of running the new jails.
Hagwood declared, "Our costs will actually go down with the new jail and we can get by with the same number of staff."
Hagwood said that the new jail would bring better security to the county and provide better services for inmates.
Hagwood also said he believed that this will be the last round of state grants for new jails.
He said he was personally going to deliver the new application to Sacramento on Feb. 28. Results of the grant application will be announced in June.
Inmate culinary program needs new home
District Attorney David Hollister said that his office will be backing out of administering the "Mise En Place" inmate vocational program this June, due to lack of staffing.
The program teaches inmates culinary skills that can help them find work after they get out of jail. This should reduce recidivism rates.
"Mise En Place" is a culinary term that refers to preparing and pre-measuring ingredients for guests ahead of time. New chefs are often employed doing this type of work.
Hollister declared: "This is a really terrific program" and the sheriff's office has been very supportive.
Hollister is looking for a new home for the program.
The board voted to transfer $45,300, in already allocated funds, to pay the instructors who have been teaching the inmates.
Deputy DA moves on
It was with great regret that Hollister reported that Deputy District Attorney Joel McComb had taken a position with the San Mateo County District Attorney's Office.
McComb will be receiving $50,000 more in salary than Hollister is receiving in Plumas County as district attorney, after many years of service.
Hollister said, "We are able to hire attorneys, but we can't retain them." because attorneys don't see any room for advancement in Plumas County.
Walker Ranch
An electronic valve to deliver water to Walker Ranch broke and had to be replaced. The board voted $862 to pay for replacement of the valve under the county's responsibility as manager of the Walker Ranch Community Services District.
In later action, Chairman Lori Simpson proposed that the board pass responsibility for special districts to their residents after 10 years.
Every 15 Minutes
"Every 15 Minutes" is a program focusing on high school juniors and seniors to remind them that every 15 minutes someone dies from a alcohol-related accident. Accidents are the major cause of death for young adults.
Supervisor Kevin Goss testified that "It's a great program."
The board approved $6,000 for the program to be held at Portola High School.
Boards, commissions and committees
The county has over 60 boards, commissions, committees, districts, councils and task forces to keep the county operating.
This list does not include "independent" special districts, such as public utility and fire districts, that are self-governing.
The board went through each of the non-independent boards  one by one to make sure each was necessary, had enough members and that a board representative was assigned.
Supervisor Michael Sanchez agreed to take on many new assignments.
These boards are manned by volunteers or by people already working for government as part of their duties.
InterMountain Disposal
Citizen Mark Mihevc continued to question the county's contracts with waste disposal companies, claiming that the companies are shortchanging Plumas County residents.
Mihevc gave the board a report spelling out his concerns.
The board spent many minutes going through some of Mihevc's charges and getting responses from county public works and InterMountain Disposal.
Ricky Ross, vice-president of Intermountain Disposal, said, "We work very hard to keep our rates low. We live here; we aren't out to rip anyone off."
Ross noted that his company's rates are lower than those in Susanville.
The board also debated among themselves the pros and cons of going to a 10-year contract, as proposed. The majority of the supervisors seemed to think this was a good idea.
Renewed contracts with InterMountain Disposal and Feather River Disposal-Waste Management are about ready for adoption by the board.
The board noted that public input is still being accepted.
Plumas County Visitors Guide
The board agreed to advertise in the Plumas County Visitors Guide for another year.
Patty Clawson of Big Fish Creations  told the board that 140,000 copies of the guide are printed and distributed to all lodgings and restaurants  in northern California and northern Nevada.
Supervisor Sanchez declared, "We need to do everything we can to brand our community. This is money well spent."