The Best Cookie in Plumas County is selected!
By Debra Moore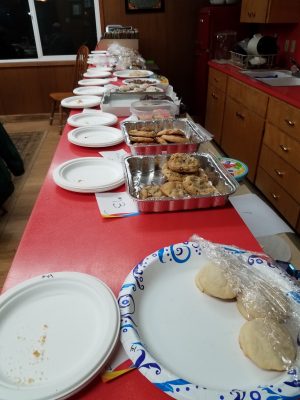 Six individuals had the daunting task of tasting 27 cookies and picking a winner for the Best Cookie in Plumas County.
It was all part of the baking/cooking contests organized by the Plumas Sierra County Fair Foundation. Fair Manager John Steffanic said that the submissions were numbered from 1 to 27, and each judge rated the cookies' taste from one to 10. The scores were totaled, and the winner was announced – 16-year-old Hailey Crump, who also just happens to be the 2022 Sweetheart of the Mountains.
While some judges might have ranked other cookies higher, when all of the rankings were totaled Hailey's had the consistently highest numbers, thus earning the nod for Best Cookie in Plumas County. Hailey made a chocolate cookie, which Steffanic admitted he sampled. Even though he wasn't one of the six judges, (they shall remain anonymous), there were plenty of cookies to be sampled as each contestant brought  more than what was needed for the six judges.
Hailey won a plaque for her efforts as well as a $100 gift certificate from Sav Mor Foods.
For those who missed this contest or want to enter again, the next event is Best Cornbread in Plumas County. That contest will be held Jan. 10. Entry forms are available at Sav Mor in East Quincy or on the fairgrounds website.
Other upcoming contests include best soup on Feb. 7; carrot cake on March 7; bread on April 4; and meatloaf on May 9.
Advertisement