The face of AVCSD and what's ahead
Most of us probably don't want to think about what happens when the tub, sink or shower water goes down the drain or when the toilet's flushed.
It's a convenience we want to ignore and do unless we have to call a plumber or pay the water and wastewater treatment bill.
Except for a few employees at American Valley Community Services District, it's business as usual. For select others, it's the day-to-day management required to run the operation. It's a matter of continuing with all the projects required in creating one plant from two, obtaining funding for a new wastewater treatment facility and awaiting the next phase of the design process.
Current treatment
Although there have been changes throughout the years, Quincy's current wastewater treatment plant was built in 1983, according to AVCSD General Manager Jim Doohan in early March.
Its plant also serves the needs of East Quincy. In turn, East Quincy provides water to the Quincy side of the operation. The former Quincy Community Services District does have a wells of its own, but it doesn't necessarily meet the needs or demands of local customers.
There's a lot of everyday or monthly operations and maintenance carried out at the West and East operations, as the two former water districts are now known.
Whether wastewater for treatment comes from East Quincy by way of underground piping across Phil Bresciani's fields or routed through Quincy's lines, it's a considerable process to clean it before it's eventually released.
One part of the West treatment operation focuses on grinding, churning and separating. According to Mike Green, assistant general manager in charge of operations, they've recovered a lot of different things over the years; car keys, a set of someone's false teeth, toys, and coins, for example. A wrinkled $1 bill tacked above one of the desks in the office probably came from the separation process, Green said.
He said in ways it was even more interesting when they used to accept trucks with waste collected from rest area facilities. Once a set of brand new keys for a Harley Davidson motorcycle was recovered.
As Doohan provided an overview of the current process, he indicated that staff were hosing down the chlorine contact basin. Here chlorine is added to the decontamination process.
Doohan said that the plant used to use chlorine gas. That changed to a liquid chlorine process, which was very dangerous. The fumes were hazardous, he said, and if anyone got it on themselves it was awful.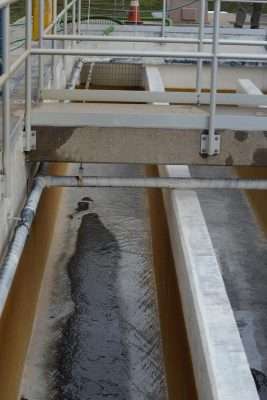 Now they use bleach as a disinfectant, Doohan said. Household bleach is in a 6 percent solution. What the treatment plant uses is at 12.5 percent.
At another location, wastewater goes through the rotating biological contactors, housed in a series of six individual chambers. Each biodisk is covered with at least 100,000 square feet of microorganisms that help treat contaminates, Green explained. There are eight parts to each section, he added.
Doohan said that operators know the microorganisms are healthy when they're a brownish-gray in color. It's when white spots begin to appear that they know the organisms are dying out.
Doohan said this could be a real problem when they used to allow recreational vehicles to dump their waste at the plant. Operators had no way of knowing or controlling what was dumped into waste collection sites.
Doohan said he's opened the door of the cover and found the entire outside surface white. That meant everything had been killed off and operators were put to a lot of work cleaning the eight 26-foot discs within the rotating biological contactor and restoring microorganisms.
According to Green, the RBC will be abandoned in the new treatment operation. Microorganisms will be introduced in a new process at a different stage of treatment.
New treatment design
Fanning out architect designs of the existing facility, Doohan explained where the new treatment components might be placed.
There are four holding ponds to the south of the offices. At this stage, the new treatment component will be placed in the two ponds closest to the offices. But that could change, Doohan said. Initially, the designers placed it in the two further ponds. Doohan said he has no way of knowing whether the designers will keep them at that location.
Green said the designers moved the new treatment feature to the nearest ponds because it was easier to access existing connections.
At this stage, the new design is just slightly less than 10 percent complete, Doohan said. PACE, a civil engineering firm that specializes in wastewater treatment plant designs, is in charge of the project.
So far six test sites at different depths have been drilled around the ponds, Doohan explained. These give engineers an idea of the types of soil they're working with in the construction phase.
Environmental impact reports and other surveys are finished, he added.
The purpose of the new treatment component, estimated to cost $26 million at this stage, is to eliminate copper and other identified contaminates. This is part of a clean water initiative approved by California voters. All service districts within the state must comply with new regulations.
Looking at finding grant funding to support the projected wastewater treatment upgrade, it was recommended to East Quincy and Quincy Community services districts that they become one entity. The reason was that they would have a better shot at getting more grant funding approved as one larger district rather than two small districts.
The two separate districts, which shared one wastewater treatment facility, have now joined together as AVCSD.
Doohan said that QCSD applied for grant funding under an older grant opportunity, but didn't receive any funding. With a new grant cycle opening, AVCSD will reapply.
AVCSD Business Manager Katie Nunn said that she has been talking with Representative Brian Dahle and Congressman Doug LaMalfa about grant funding support.
Nunn said both seemed to think they could get AVCSD at least an estimated $6 million and probably more for the new facility. "They are paying attention," Nunn said.
"They're trying to get some things pushed our way," Doohan said.
Considering funding, AVCSD Board Of Directors President Denny Churchill recently said that it seems that there's a five to 10 year cycle where rural areas suddenly get noticed.
AVCSD General Manager
Jim Doohan
Jim Doohan was in high school when he discovered his interest in water. "I fell in love with water when I was a junior in high school," he remembered.
It was like having an epiphany, a light bulb moment, as he studied about it.
Following high school, Doohan attended college in Humboldt County. He was majoring in environmental studies. He didn't finish college, but decided to take his chances on finding work without a degree.
Doohan's introduction to Plumas County was when he tried to get a job on the Plumas National Forest. He thought he might get on in hydrology or a similar field. That didn't work out, but getting a job in water treatment did.
It was a long way away from Doohan's original plans involving water.
Considering the many things that Doohan's done on the job over the years it's testing river water that's his favorite part. That's more like getting back to what his original interests were.
That was more than 28 years ago. He's now the general manager for AVCSD and has a class three-treatment certification. Doohan said that he passed the test, but the state doesn't award licenses to workers in facilities that aren't required to do primary health standard testing. Locally secondary testing is all that's required. Primary health standard testing is for large facilities.
At this stage, the new wastewater treatment plans call for a class three-treatment operator. If it does go to class four, he said he will have to upgrade his skills.