The sky's the limit, or is it?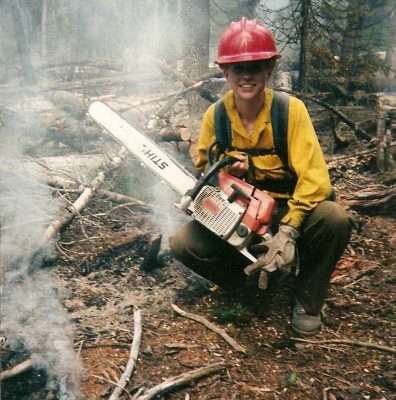 What do you want to be when you grow up? Quincy resident Michelle Schilling still hasn't figured that out although she's done more than many people experience in a lifetime. And her time to venture into a new career is far from over.
Schilling hasn't allowed herself to become labeled by any of the career choices she's made. Actually labeling addresses on newspapers was her very first job when she was just 8. Her high school-aged self took photos for that same publication.
She grew up on a cattle ranch that she describes as in the middle of nowhere in central Montana. Pinning her down on where, she said the closest town was Judith, a 45-minute drive from her home.
Although she kept busy, she knew that staying on the ranch, watching herds of cattle and horses, wasn't the answer. At least not her answer to what she wanted to do with her life.
Ranching is a good life, she said, not wanting people to misunderstand her. But it's hard work, not that she's afraid of hard work, as she's demonstrated in the earlier career moves she's made.
As a child, she worked, both on the ranch and away from it. Outside the ranch, her parents were big on having their children earn money and understand responsibility. In high school, she was the photographer at high school sporting events.
Moreover, growing up with a work ethic, and being the only girl amidst many brothers, Schilling knew how to handle herself around men. It was foreshadowing for career days she hadn't yet begun to imagine, when working with 18- to 20-year-old men would become the norm.
"As a kid, I couldn't wait to get out of Montana," she said.
At some point in her childhood, Schilling knew she wanted to go to college. But how was she going to help raise money for college tuition?
It was her mother who handed her an application to become a firefighter. A friend of the family happened to be the district ranger, but in looking at the grown woman and imagining that same person as a teen accustomed to the lifestyle required of a rancher, it's not hard to imagine that she was accepted.
"I graduated from high school on a Sunday, and started with the Forest Service on Monday," she said. That was in 1998.
By that fall, she had the tuition money to start at college in far northern Idaho. Her major? Forestry. Every summer from then on, until she graduated with her bachelor's from the University of Montana, she worked with fire crews.
And yes, she did return to Montana, just not as a rancher.
The place and the lifestyle are still in her heart, but at this point in her life, she still doesn't want to return. She is glad, however, that an uncle took over when her parents no longer did the work.
Advertisement
"I've thought about it and tossed the idea around many times," Schilling said about taking over the ranch. Her uncle is a bachelor and he's getting older. But it always seems to come down to the miles and miles of life in the middle of nowhere and those seemingly endless stretches of dirt roads.
And she's pleased that a cousin is building a house on the ranch. She hopes that he and his family take to the lifestyle demanded of living there.
But when Schilling finished college with her new degree, fighting fires just seemed like a natural thing to do. Considering her career, she said she's moved from hand crews; to a Type 6-engine crew; a Type 2 crew, accustomed to the more rigorous, often more dangerous jobs; and even became part of that elite team of super firefighters known as the Hotshots. From there, she eventually moved up — becoming part of a 28-crew team on a helicopter.
With this crew, Schilling continued to use many of the skills she'd learned through the seasons, but fast rope rappelling was a new opportunity.
Accustomed to being in shape, usually two workouts, or PTs, a day as Schilling called them, was part of the trade. And she was paid for the time it took to train. One year her workouts became so intense that she got down to 110 pounds of mean and lean, she added.
Every year there was the pack test to prepare for — carrying a 45-pound pack and covering 3 miles in 45 minutes or less. And then there were always all of those 18- to 20-year-old men to compete with. She said that she had told herself early on that when she couldn't keep to the front part of the pack, then it was time to call it quits.
Even in the beginning of her firefighting career, there were other women around. It wasn't like the early days she'd heard about when either women weren't hired, weren't welcome or simply didn't know about the career possibilities.
Schilling's experience is that there is always at least one or two other women around. But thanks to being raised with brothers, she's always gotten along well with men.
Schilling spent eight seasons with the helicopter crew beginning in 2008 on the Eldorado National Forest. While on the helicopter crew, she went from being a crew member, to a crew boss and then the helicopter manager.
And then she quit. She'd had enough of fighting fires and enough of the Forest Service.
It was time to think of her career opportunities and she decided to go for her master's degree in fire ecology at the University of Nevada, Reno.
"But I never finished it," she said.
Thinking that fighting fires was no longer part of her life, out of the blue, she got a call from a company called DynCorp International. They had heard about her somewhere and thought she would be good as part of a small helicopter crew doing GIS work — mapping fires and doing infrared imagery for fires.
Like many members of the Forest Service, Schilling had had some training on GIS computer mapping. Finally accepting the job, she underwent additional training and became a contractor with the company.
Firefighting was about tough, physical labor; about sleeping on the ground every night and often breathing smoke during the day. It was about long shifts and not knowing when the next shower or hot meal might come her way.
Thinking about a fire on the Yukon, Schilling said that even in camp — possibly especially in camp — food couldn't be eaten after a certain time at night. And absolutely no food was allowed in the tents. Those large, fierce grizzlies were a major concern.
That kind of lifestyle has all changed now, she said. Although keeping in shape is still part of the job, she gets to stay in motels or hotels, whatever the area has to offer. And there are no MREs — meals ready to eat, those somewhat nasty canned meals prepared for the military and common with firefighters. "Although they have improved some," she noted.
Advertisement
At this stage in her life, Schilling still relishes having the winters off. Her traditional working season is generally four months long. But in bad years, it can start earlier and end later.
She keeps busy during the winter. Her husband, Joel, cuts and saws up his own timber for lumber. Schilling then makes a variety of furniture out of it.
And the couple travels. Joel works on wind turbines and recently was sent to New York and then Hawaii. Schilling hadn't been to Hawaii so she tagged along.
To end the winter they're off to Iceland, where they have friends; Denmark, where she has a cousin; and who knows where else their guidebooks will take them.
Schilling is grateful to her mother for introducing her to a way of life she might otherwise not have imagined. Working on a hand crew for even one summer is a great opportunity for young women — and young men — to make good money, have an opportunity to see something of the country and widen their perspectives about all of the varied career opportunities that are available.
So, what's Schilling going to do when she grows up? A master's in fire ecology doesn't seem to be part of her plans. And she's not so sure about becoming a doctor although the human brain fascinates her. For now, she's just traveling, enjoying the final months of a winter off and maybe toying with one idea or another for her next career.