Town Hall Theatre offers mainstream films and special presentations
The Town Hall Theatre announced its February and early March schedule with a full slate of movies, including two special mid-week presentations sponsored by Feather River College.
Movie show times are 7 p.m. each night, unless otherwise noted, Friday through Monday, with a 4 p.m. Sunday matinee.
To get the most current movie schedule, check quincytownhall.com. The Town Hall Theatre movie line is 283-1140.
"Parasite" plays four days, Feb. 14 – 17, Friday – Monday.
With historic wins as the first foreign film to win Best Picture and ensemble cast at the Screen Actors Guild Awards, Korean film "Parasite" is nominated for Best International Film and Best Picture for the Oscars and favored to win one or both.
Meet the Park Family: the picture of aspirational wealth. And the Kim Family, rich in street smarts, but not much else. Be it chance or fate, these two houses are brought together and the Kims sense a golden opportunity.
Masterminded by college-aged Ki-woo, the Kim children expediently install themselves as tutor and art therapist to the Parks. Soon, a symbiotic relationship forms between the two families. The Kims provide "indispensable" luxury services while the Parks give the Kims a way out of their shabby circumstances. But this new ecosystem is fragile, and soon enough greed and class prejudice threaten to upend the Kims' newfound comfort.
This 132-minute subtitled drama is rated R for language, some violence and sexual content.
Web: www.parasite-movie.com.
"Dolittle" plays four days, Feb. 21 – 24, Friday – Monday.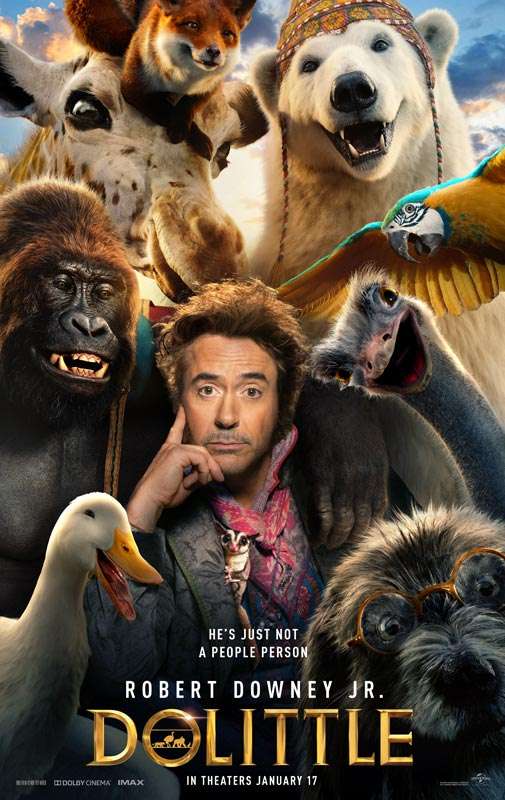 Robert Downey Jr. electrifies one of literature's most enduring characters in a vivid re-imagining of the classic tale of the man who could talk to animals.
After losing his wife seven years earlier, the eccentric Dr. John Dolittle (Downey), famed doctor and veterinarian of Queen Victoria's England, hermits himself away behind the high walls of Dolittle Manor with only his menagerie of exotic animals for company. But when the young queen falls gravely ill, a reluctant Dolittle is forced to set sail on an epic adventure to a mythical island in search of a cure, regaining his wit and courage as he crosses old adversaries and discovers wondrous creatures.
The doctor is joined on his quest by a young, self-appointed apprentice, and a raucous coterie of animal friends featuring the vocal talents of Rami Malek, Octavia Spencer, Kumail Nanjiani, John Cena and Emma Thompson. The film also stars Antonio Banderas, Michael Sheen and Jim Broadbent, and features additional voice performances from Marion Cotillard, Tom Holland, Selena Gomez and Ralph Fiennes.
Advertisement
This 101-minute family adventure is rated PG for some action, rude humor and brief language.
Web: www.dolittlethemovie.com.
"Harriet" plays two days, Feb. 25 – 26, Tuesday – Wednesday.
Based on the thrilling and inspirational life of an iconic American freedom fighter Harriet Tubman, "Harriet" tells the extraordinary tale of Tubman's escape from slavery and transformation into one of America's greatest heroes. Her courage, ingenuity, and tenacity freed hundreds of slaves and changed the course of history.
Cynthia Erivo has won multiple nominations for Best Actress in the title role.
     Feather River College is supporting the presentation of this film and will host a brief introductory presentation to the film Tuesday, Feb. 25.
This 125-minute drama is rated PG-13 for thematic content throughout, violent material and language including racial epithets.
Web: www.focusfeatures.com/harriet.
"1917" plays four days, Feb. 28 – March 2, Friday – Monday.
     Date to be confirmed.
At the height of the First World War, two young British soldiers, Schofield ("Captain Fantastic's" George MacKay) and Blake ("Game of Thrones'" Dean-Charles Chapman) are given a seemingly impossible mission.
In a race against time, they must cross enemy territory and deliver a message that will stop a deadly attack on hundreds of soldiers — Blake's own brother among them.
The film also features performances by Benedict Cumberbach and Colin Firth. Sam Mendes, the Oscar-winning director of "Skyfall," "Spectre" and "American Beauty," brings his singular vision to his World War I epic.
With numerous nominations and awards as Best Picture for 2019, the films is a favorite for the Best Picture Award at the 2020 Oscars.
This 119-minute drama is rated R for violence, some disturbing images and language.
Web: www.1917.movie.
"The Gentlemen" plays four days, March 6 – 9, Friday – Monday.
Date to be confirmed.
From writer/director Guy Ritchie comes "The Gentlemen," a star-studded sophisticated action comedy.
"The Gentlemen" follows American expat Mickey Pearson (Matthew McConaughey) who built a highly profitable marijuana empire in London.
When word gets out that he's looking to cash out of the business forever it triggers plots, schemes, bribery and blackmail in an attempt to steal his domain out from under him. The film features an all-star ensemble cast that also includes Charlie Hunnam, Henry Golding, Michelle Dockery, Jeremy Strong, Eddie Marsan, Colin Farrell and Hugh Grant.
This 113-minute action comedy is rated R for violence, language throughout, sexual references and drug content.
Web: www.thegentlemen.movie.
"Just Mercy" plays two days, March 10 – 11, Tuesday – Wednesday.
     "Just Mercy" tells the story of Bryan Stevenson and his history-making battles for justice in Alabama. One of his most incendiary cases is that of Walter McMillian, a black man wrongly convicted of murder and sentenced to death.
Bryan refuses to back down as he fights to prove Walter's innocence, with the system stacked against them. "Just Mercy" will draw you in, make you think and open your heart.
The stellar cast includes Michael B. Jordan, Jamie Foxx and Brie Larson.
The film is based on Bryan Stevenson's book, and was the Feather River College Book in Common for the 2018-19 academic year.
FRC is supporting the presentation of this film and will host a brief introductory presentation to the film on Tuesday, March 10.
This 99-minute drama is rated PG-13 for thematic content including some racial epithets.
Web: www.justmercyfilm.com.