Treats Wags n' Wiggles hosts pet adoption for PAWS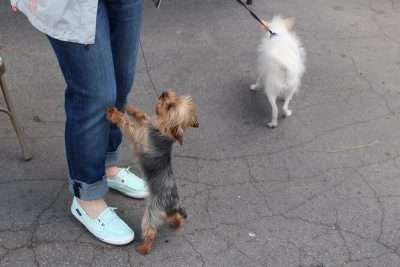 Dogs have a reputation for being "man's best friend" for a number of good reasons. Dogs are wonderful companions, and many breeds, in addition to being affectionate, aredevoted members of the family.
Joyce Ryn and husband Dave, owners of Treats Wags n' Wiggles Pet Supply in Chester, celebrated the grand opening of their store May 12 by hosting a pet adoption event for Plumas Animal Welfare Society and Animals In Need.
Outside the pet supply store, Ryn served complimentary hot dogs, brownies and soft drinks to the many dog-loving patrons who brought their dogs, and provided special doggie yogurts, which the visiting canines lapped up with concentrated enthusiasm, tails wagging fiercely. A number of free goodie bags filled with dog treats were also given away.
A drawing was held at the end of the event with various prizes, displayed on tables set up in front of the building.
Ryn said she was hosting the event mainly because she wanted to continue the tradition of the previous owners of the store.
"We love our animals — both doggies and kitties — and want to help them find permanent homes," adding that she had a pretty good turnout during the affair.
Part-time Chester resident Devin Kelley from Colusa, brought her 5-year-old Yorkshire terrier Pixie, recently rescued from a private party, looking to find Pixie a new home.
"I'm an animal lover," said Kelley, "so I'm here today to support the cause" of pet adoption, as well as pick up some supplies for her animal companion.
Chester resident Elaine Elliott brought Molly, a vizla-lab mix, age 10, and 3-year-old Brodie, a border collie pit, to the open house for much the same reason as everyone else who attended: "To support PAWS" and their efforts to find homes for stray animals, in this case cats.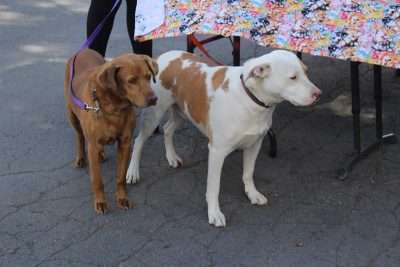 Renee Burkett and daughter Navalynn, 5, brought the family pet, Maxton, a 4-month-old hybrid Newfoundland (Newfkom), which are noted to be excellent with children, easy to train with a calm temperament and distinguished as a breed that neither sheds nor drools.
Burkett said she and her daughter came for the grand opening of Treats to help local pet adoption agencies get the word out on the serious need for more homes for dogs and cats that need a family to take care of them.
Another one the dogs brought to the event by short-term caretaker Lisa Trostl was 6-year-old Zeeba, a husky-lab mix looking for a permanent home.
Family-friendly and well mannered, "Zeeba is also full of energy," said Trostl. "She loves to play ball and loves the water. But once she's had her daily workout she's laid back and mellow," adding that Zeeba gets along well with other dogs, cats and children.
Anyone interested in adopting Zeeba can call Trostl at 258-7074 or Barbara Montandon at 258-1536.
Yard sale fundraisers
On Memorial Day weekend, Saturday, May 26, the 47th annual yard sale is being held "to raise money for both PAWS in east Quincy and Animals in Need," the organization run by PAWS volunteer and yard sale coordinator Barbara Montandon. The sale takes place at 336 Lassen St. in Chester from 8 a.m. to 2 p.m.
Montandon recounted that she's been volunteering her time organizing the twice-annual not-for-profit fundraisers for the past 26 years.
An additional yard sale is also held on Labor Day weekend, Saturday, Sept. 1.
"The money we raise at the yard sales is used for our Animals in Need to support pet rescue, and provide spay and neuter services for cats only through PAWS, and to help keep the organization's doors open."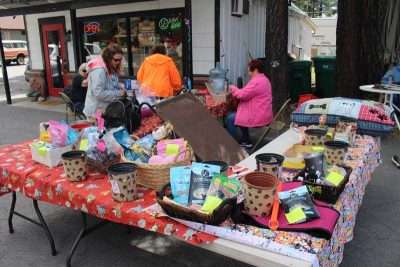 Tables are set up now, so people can start dropping off donated items anytime.
"People who wish to drop off items should let me know they're coming ahead of time," requested Montandon by either calling her at 258-1536, or by email at [email protected], "and I will meet them at the location" preferably up to a week in advance of the sale, but no later than the Friday before the sale begins, she said. She can be contacted also on Facebook at "Barbara Montandon."
Kitchen and household items, artwork, picture frames, small pieces of furniture like tables, lamps, tools and working electronics, along with "most of the types of things one would find at a flea market" are sought.
However, no clothing or exercise equipment, "which we prefer they take to the local thrift stores."
Those who donate can get a receipt for their taxes if they like she added.
"All the items we receive from the community are cleaned, clearly priced and laid out so people can start purchasing. … We're happy to negotiate the price." At noon everything is half-off, she added.
"We also have a great selection of baked goods for sale. Anybody who wants to donate baked items can deliver them on the day before the yard sale on Friday or just before the sale begins Saturday morning."
Montandon also collects needed pet items for all nonprofit Plumas County animal rescue organizations. Such items include dog and cat food, water bowls, collars, leashes, toys, beds and crates.
Donated items may be dropped off for storage at Wags n' Wiggles, 525 Main St. in Chester.
Of special note, "We're also planning to be at Plumas Bank on June 22 with lots of kittens and shelter cats for adoption," Montandon said, adding that monetary donations to provide for rescue animals are always appreciated.
Montandon said that anyone who wished to get in touch with Animals in Need or Plumas County Animal Shelter, located in Quincy, to adopt a dog can contact her and she will try to match up the agency with whatever an individual or family is looking for.
However, "What we require from renters is that if they want to adopt an animal we need to first speak with the owners so we know that the animal is accepted at that location and can stay with the family forever."
Said Montandon, "My dream is that there won't be anymore homeless animals. We want 'forever' homes for all."
For more information or to view pets online needing adoption, visit petfinder.com.
Adoption fees are $10 for dogs and cats. License fees for dogs are $15 per year.
All potential adopters must complete an adoption consultation form and be approved prior to adoption.
The Plumas County Animal Shelter's regular business hours are Monday through Friday from 8 a.m. to 5 p.m. Saturday viewing is by appointment only by calling 283-3673. The address is 201 N. Mill Creek Road in Quincy.
Office hours are subject to change due to staffing; calling prior to visiting the shelter is recommended.