Using puppetry to address bullying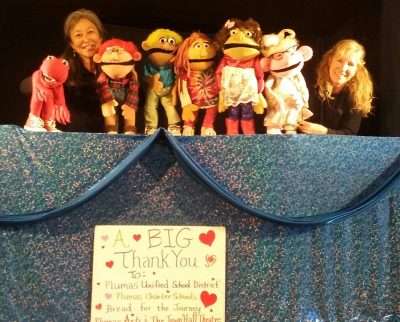 Thanks to the support from Bread For The Journey, Plumas Charter School, Plumas Unified School District and Pumas Arts, the "Quack and Wabbit" puppet theatre from Humboldt County was able to perform at several Plumas County elementary schools.
Tanya Crowley and Yumi Ozaki are professional puppeteers who perform throughout Northern California. Early on in their careers as occupational therapists working with children and using puppets occasionally, they discovered the positive effectiveness of puppetry and how it captures children's attention so well.
Their purpose is to promote a positive difference in the lives of children by teaching valuable life skills through the art of puppetry. The topic that was presented in Plumas County was how to speak out against bullying. Through conversations, music, dance and the variety of puppet characters and personalities, the children learned how to recognize bullying, how it feels, ways to speak out and get help from adults if needed, for themselves and their classmates and friends.
There was an emphasis on respecting and celebrating differences, being kind, and enjoying an environment that feels safe and supportive. In addition, tools were shared regarding anger management and conflict resolution. The performance captured the children's attention very well.
Afterwards, many children came up to talk with "Froggie and Granny," sharing their understanding and enthusiasm to create a more supportive, joyful, kind and compassionate school, home and community environments.