Venue overflows at the kick-off chamber mixer
The building called Stover Landing Commons at 278 Main St. in Chester was overflowing with guests, good food, beverages, music and information as an estimated 60 to 70 town folk came out for the Lake Almanor Area Chamber of Commerce spring mixer Friday, March 30.
Sponsored by Craving's, B & B Booksellers and the LAACC, the event was called "Town Talks" and was designed to be a little more social than business, but still looking for ideas to benefit the community and its businesses.
Several groups including the Almanor Recreation and Parks District, Almanor Fishing Association, USFS Almanor Ranger District and the proposed Lake Almanor to Quincy Tourism Business Investment District were on hand to display some of their upcoming events and projects planned for the summer.
LAACC also had a display asking for community input regarding possible events that would enhance and provide growth for the area.
There was no lack of enjoyable activities for attendees with plenty of tasty hors d'oeuvres, beverages and uplifting music by a local quintet. When asked what the name of their group was they quickly went into a huddle and after rapid deliberation announced they were "The Almanor Anchors."
It seems this was their first official gig together and this was their debut.
Welcome Almanor Anchors! Great job.
It became very apparent, as this writer traveled to the Bay Area the next day, that Lake Almanor in many ways, is not much different from most other communities trying to survive in this day and age.
While reading a local paper down there, low and behold there was an article from the chamber talking about reviving the local chamber and what the role of the chamber should be.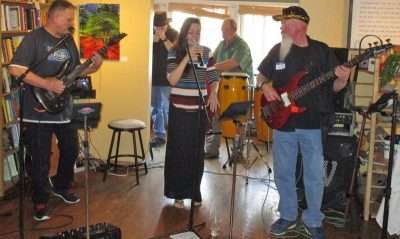 The prevailing wisdom from this "small community" in relationship to the overall population at-large was quite simple.
They believed that the goal of their chamber of commerce should be to make the community a better place to live and work. If they can accomplish that goal, local businesses will thrive.
It sounded so good in print and then it dawned on me that the same message was being offered at the mixer right here in Chester the night before.
With new leadership and a renewed vitality, the LAACC is inviting everyone in the community to get involved in the future of the area.
As one business owner mentioned that evening, "If I'm not involved in the community, why would anyone from the community want to buy something at my store?"
Give the Chamber a call at 258-2150 and get involved.