Weather doesn't dampen spirits of snowmobilers.
The members of the Lake Almanor Snowmobile Club  have been hoping for more snow and less rain for the last couple of weeks.
Why? Because they were hosting their annual Snowmobile Poker Run on Saturday, Feb. 18.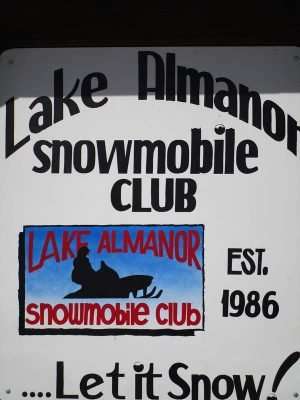 A day that featured some light rain, snow showers and a "sucker hole" or two wasn't exactly what was hoped for, but it sure wasn't going to dampen the spirits of the almost 150 riders from across the north state that came out to ride and enjoy.
As one participant declared as he pulled into the last station, "I can't think of anything I'd rather be doing today."
When asked about the rain he answered, "There hasn't been that much, besides that's what rain suits are made for."
At each of the seven checkpoints the riders select a card that will eventually be used to make their best poker hand.
The first and last checkpoints are located at the registration booth in the snowmobile park leaving five others out on the 50-mile route.
Check Point 4 seemed to be one of the favorites with a chili cook-off theme and a little belly warmer for the rest of the ride.
One thing for sure, a snack on the trail didn't affect the crowd's appetite when it came time for lunch.
The Rotary Club of Chester served up ample helpings of baked beans, coleslaw and huge smoked sirloin sandwiches for the riders and another 25 or 30 additional people who came out to enjoy the lunch and prize drawing.
The three best poker hands for the run were:
– Best Hand, four kings for Michelle Gosney, Chester;
– Second Best Hand, four threes for, again, Michelle Gosney;
– Third Best Hand, full house (kings and aces) for Jodi Bechhold of Durham.
All Riders are allowed to purchase a second poker hand for the run, but in the recollection's of long-time members, this is the first time one person has won the two top hands.
Congratulations to both the winners.
Speaking of winners, there were many in the drawings that ensued.
There were prizes galore thanks to the generosity of many local merchants and the snowmobile industry.