Westwood Rifle & Pistol Club seeks new members, officers
The Westwood Rifle & Pistol Club invites all shotgun, rifle and pistol enthusiasts to come out and join in the upcoming weekly target shooting events at the Al Hoop Gun Range in Plumas County, and in recognition of the club's 54th year.
The "Founding Fathers" of the Westwood Rifle & Pistol Club were George A. Williams, James L. Conlee and Lee Roy Schuldies, all from Westwood, and Roy Kemply and Bernard Pool from Chester. These men organized and chartered the club back in 1964.
Club members George Orloff of Lake Almanor and Don Hamlin constructed the clay shoot section of the range in the early '80s, which included 10 shooting stations. The course changes regularly at each scheduled event so shooters have some variation.
WRPC sporting clay chairman Chris Morgenroth of Chester and Bill Quadrio of Hamilton Branch joined the club in the mid-70s. Together they set up the traps that launch the clay "pigeons," and currently do all the mechanical work at the range during each event.
The Westwood Rifle & Pistol Club is open to everyone in any county or state, not just Westwood residents. People are welcome to participate with club members without joining if they prefer; they're always free to go on their own since the range is open when there isn't a scheduled event.
Since shooters don't have to be club members to participate, they can arrive with their own shells and shotgun or other firearms plus ammunition. All ammo must be gun club approved; no armor piercing or incendiary rounds are permitted at the range.
Check the website for costs you can expect to pay to shoot targets and sporting clays provided by the club. Club members receive discounts on targets.
Target practice is an excellent way to tune up for hunting season, said club members. Shooting helps to train your eye, but members quickly added that a lot of people who don't want to hunt could still have loads of fun just shooting for sport in addition to finding a sense of camaraderie at the range while enjoying a day outdoors in the sunshine.
Although club members are scored on their hits and misses, they said the scoring doesn't really mean anything. It's just an opportunity to meet with friends and have a blast, as well as striving to attain your personal best.
There are some exceptions, however, with monetary prizes awarded to club members during specified competitions or tournaments for the trap shoots and sporting clay contests on dates to be announced, plus ribbons for the rifle shoot.
After every shoot, the area is cleaned of debris and the traps are removed. Club members are always grateful for any individuals in the community, whether or not they are club members, to help set up and take down equipment at each station before and after the regular events, and assist in loading it onto a trailer to return to off-site storage.
Because the clays are biodegradable, any pieces that remain on the ground quickly melt away in the rain, and small shattered pieces are normally left on the ground.
Anyone who would like to sign up to help with setting up sporting clay equipment specifically and cleaning up after a clay shoot can contact Phyllis Orloff at 596-4116. You will receive a free day of shooting for each day you volunteer.
Boasting over a hundred members, most WRPC members and non-club participants agree that shooting is a fantastic way to have fun and meet new, like-minded people.
Members said everyone in the club is thrilled to be of assistance to new members if it's their first time on the range, offering tips and answering questions.
There's a range executive at every event to coordinate the shoot that is very knowledgeable in all types of guns.
Shooters should always wear proper eye and ear protection at the range, members noted.
Parents with kids 10 and older who want them to have the opportunity to learn gun safety, while having a place to practice firing a gun, can contact the club for information on bringing children to the range. The club provides an ideal setting for them to learn the sport and safe use of firearms.
The pistol shoots are great for women (and men) who want to learn to use a handgun with training by Ron Damsen, who organizes the pistol range classes.
To become a member, the annual membership fee is $20 for individuals; a fee of $40 covers all family members, including children 19 years of age and under starting in May.
In association with the club, Ken Anthony of Chester Tactical Sports offers CCW classes on a monthly basis. Anthony also offers private gun lessons. He can be reached at 258-1911.
Rick Roy provides hunter education certification classes twice a year for kids 12 and older, or any adult without a hunting license.
The next series of classes are scheduled for Tuesday, May 15, and Wednesday, May 16; and Tuesday, May 22, and Wednesday, May 23, at the Westwood Community Center. Registration is required to attend the classes. Roy can be reached at 521-5571.
The website alhooprange.org has more detailed information on the Westwood Rifle & Pistol Club, a schedule of events and also includes a link to an online membership application that can be printed out, filled in and mailed to the organization at P.O. Box 2021, Chester, CA 96020.
Chairman John Cox is the club's coordinator for trap shooting. He can be reached at 256-2119. Rifle range chairman is Marty Diehl, 256-2138. Pistol class chairman is Ron Damsen, 596-3017. Sporting clays chairman is Chris Morgenroth, 258-3295.
For additional information on club activities, call Carol Morgenroth at 258-3295.
Driving to the range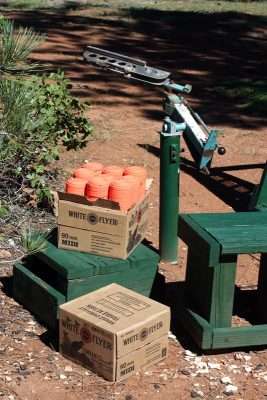 Directly across from the Lassen Emigrant Trail marker, located approximately 10 miles east of Chester, turn north off Highway 36 and enter the dirt road. Look for 1613 painted on a tree where the dirt road begins.
The Al Hoop Gun Range is the closet official firearm range in the local region, located at the end of a dirt road about a mile drive off Highway 36, ending at the entrance to the range just inside the Plumas County line.
Clean up day and election of officers
A clean up day, annual general meeting and election of Westwood Rifle & Pistol Club officers is scheduled Saturday, May 19, at the Gun Range, starting at 8 a.m.
All community members who would like to help club members that day clean up the range area should feel free to show up. Bring gloves, a hat, rake and a shovel.
Volunteers will be collecting fallen pinecones, debris, litter and used shell casings from the rifle and pistol range for disposal.
Anyone who reloads their own ammo can keep any good condition shell casings they find that match the caliber they need.
The club will provide trash bags and supply snacks.
People can also join the club that day if they like. In case of rain, the alternate date for the clean up is Saturday, June 9, also at 8 a.m.
Individuals in the community are always needed at all shooting events to help with equipment set up and cleaning needs, particularly at sporting clay events.
After the clean up, the club invites individuals interested in running for election at the May 19 general meeting to serve this year as club officers to fill upcoming vacancies.
In the event you cannot attend the clean up and meeting, call Carol Morgenroth at 258-3295 to learn how you may still submit your name as a candidate to run as an officer in the gun club.