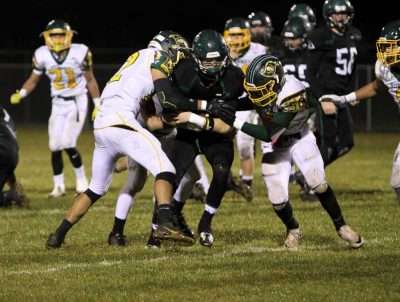 The Chester Volcanoes came out on the very top of their Mountain Valley league last Friday, Nov. 3, when they easily beat the Burney Raiders by a score of 50-6.
Both teams braved cold and consistent rainfall as they battled for the top spot in the league. Coach Dreith utilizes a professional service that compiles Volcano stats from videos taken of the game. "It takes a little longer, but our stats are very accurate," coach said. As a result, look for details of the winning league game Nov. 3 in next week's sports section.
As the league champions, the Volcanoes received a bye for the first game of the CIF playoffs and will play in Chester at 7 p.m. on Friday, Nov. 17, in round two of the CIF championships.
Oct. 27 game stats
Advertisement
The stats came in on the Volcanoes' 42-8 victory Oct. 27 over the Maxwell Panthers after press time last week and are summarized here and are well worth reviewing.
Leading the scoring against Maxwell was senior Tony Rogers with four touchdowns. Senior Owen Delacour scored two touchdowns and a 2-point conversion for the Vols and Sophomore Colton Dreith scored a 2-point conversion.
Rogers pushed 163 yards rushing in 24 carries. Dreith rushed 120 yards in five carries, with an additional 16 yards receiving. Senior Sawyer Durkin had 112 yards rushing in nine carries and Delecour delivered 11 yards rushing in three carries and 14 receiving yards. Quarterback Durkin completed two passes for 30 yards.
Leading the Volcano defense was Dreith with 13 tackles followed by Rogers who brought down 10 Panthers. Other tackles from the Volcano defense contributing to the Chester win were made by Tyler Davidge, Delacour, Garrett Feger, Isaiah Estacio, Tanner Rogers, Jake Sarmento, Durkin and John Longacre.
The Volcanoes were real menaces to Panthers' quarterback Ulises Rolon, sacking him five times. Junior Davidge lead the charge with two sacks, while Feger, Estacio and Rogers each sacked the struggling Panther once.
Advertisement
Rogers had seven kickoff returns amounting to a total of 270 yards and two punt returns for a total of 75 yards.
The Panthers' game plan included an aggressive passing game with 15 completions for 203 yards compared to 30 passing yards for the Vols. However, it was the rushing game that really paid off with the Chester boys racking up 406 yards in 41 carries. The Panthers were only able to gain 63 yards on the ground in 14 carries.
The next game for the Volcanoes is Nov. 17 against the winner of a match between Biggs and Quincy this Friday. The Vols received a bye in the championship ladder and will play the victor.