Eagles fly undefeated with 16-game streak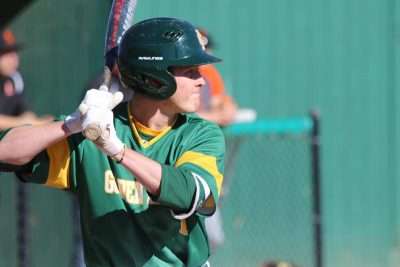 Feather River College baseball is having an unparalleled season acing the competition. The most recent success for the men was a trio of games with the Shasta Knights.
Between rainstorms the Eagles managed to win home games March 29 and 30: 2-1, 12-2 and 8-2. The last victory over the Knights was the 16th win in a row for the Eagles with a matching 16-0 conference record.
Stats are in for the triple-game conference series in Quincy with the Siskiyous Eagles on March 21 and 24. The FRC men won all three: 6-3, 13-5 and 8-1.
On March 21 runs were scored by Austin Youngblood, Vinny Zavolta, Jerry Thomas, Peter Mendazona, Ty Brogden and Bailey Seeger. RBIs were hit by Zavolta, Mendazona and designated hitter Cameron Fliege.
Damien Awai of Hawaii pitched six innings for FRC facing 23 batters and striking out eight. Jacob Miller pitched three innings with 15 batters striking out three.
During the first game of the doubleheader on Sunday between snow showers, Brandon Hernandez had a terrific day scoring three runs to help in the 13-5 victory.
Youngblood scored two runs as did Fliege. Brogden, Thomas, Haydn Brown, Jeremy Watland, Braden Del Carlo and Kyle Bettencourt all scored for the Eagles.
Esteban Sosa pitched most of the game facing 25 batters and striking out three. Raleigh Pigg took the mound striking out one of the five batters he faced, Sebasten Boivin struck out two of six batters and Kyle Meyer took a turn also.
In game two the FRC men won 8-1. Vinny Zavolta contributed three runs of the eight! Wow! Youngblood hit a home run knocking Seeger in and crossed home plate twice in the game himself. Watland and Del Carlo added the balance of Eagle runs.
Fresh FRC pitchers took the mound in the final of the three games with Siskiyous. Jake Farnsworth pitched to 18 batters and struck out five. Tim English pitched two innings to 10 batters and struck out two. Zach Perkins struck out one batter in his inning of pitching and Jon Kimball faced six batters from the FRC mound.
The season is wrapping up quickly with just six home games remaining for the Eagles and nine games before playoffs begin. The FRC men couldn't be in a better position than they are now, undefeated in the league.
This Friday, at noon and 3 p.m., the Eagles meet the Redwood Corsairs on the Eagle home diamond, if weather cooperates. Rain is predicted, but things often change.
The following Friday, April 12, the men are scheduled to play the Butte Roadrunners at noon and 4 p.m. in Quincy.
The two remaining home games before playoffs are vs. the Lassen Cougars on Saturday, April 20, at 1 p.m., and the final regular game, a rematch with the Siskiyous Eagles on Thursday, April 25, at 1 p.m.
Advertisement