The Feather River College men's soccer team tied with the Butte Roadrunners on Oct. 10 on the FRC field. Mitchell Mcleod scored the goal for the Eagles in the first period, assisted by teammate Guido Battistini. Roadrunner David Gomez scored a goal in the second period, tying the game up for the final score.
Eagle Tom Kleywegt served as goalie for FRC the entire game. The Roadrunners made three goal attempts in the first period and five in the second. Kleywegt was able to deflect all but one.
The Eagles made two goal attempts each period and were first in the game to get a shot past the Roadrunner goalie, Francisco Noguera.
The Eagles are 6-3-2 overall and 3-1-1 in conference play. The Eagles have slipped to the number two spot behind the Lake Tahoe Coyotes who are on a three-game winning streak. Lassen trails FRC, followed by Butte, Siskiyous, Redwoods and lastly, Shasta.
FRC women's soccer
The FRC women's soccer team will play at 2 p.m. at each of their home games Tuesday, Oct. 24, Tuesday, Oct. 31, and Friday, Nov. 10. Overall the lady Eagles are 2-8-1 with a 0-4-1 record for the conference.
Eagle men's soccer schedule
10/17 Lassen-away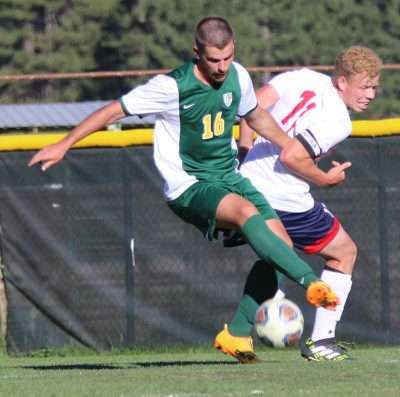 10/20 Siskiyous-away
10/24 Redwoods at 4 p.m.
10/27 Shasta-away
10/31 Lake Tahoe at 4 p.m.
11/03 Butte-away
11/10 Lassen at noon