FRC men beat top spot Lassen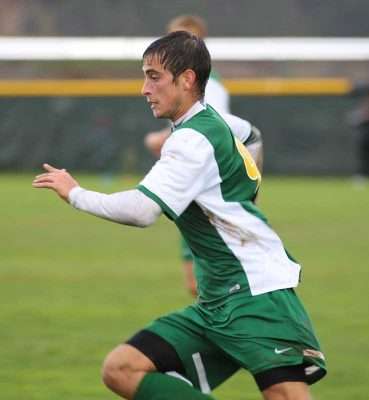 The Feather River College men played soccer in the rain on a slippery field Nov. 10, against the current first place Lassen Cougars, but the Eagle energy was not a bit dampened.
The FRC team pulled off a stunning victory and actually seemed to use the rainy conditions to their advantage, with controlled slides and leaps over fallen players.
The first goal for the Golden Eagles was placed solidly in the net by Santiago Pereyra Ghi assisted by Tom Bentham in the first period just three minutes into the game.
Scoring so early in the game, the Eagles put their cards on the table, they were out to win.
Eagle goalie Tom Kleywegt kept the Lassen Cougars completely scoreless for the first period, not that the Cougars didn't try.
Just before the whistle blew to end the first period, FRC Eagle Maurice von Winkler scored an unassisted goal putting the Eagles ahead at the half 2-0.
With 13 minutes left in the game, Mathias Saether scored again for the Eagles assisted by Drew Olin. The Feather River College team was in the lead 3-0 using the rain to their advantage and seemingly anticipating every attempt to score from the Cougars.
Goalie Kleywegt again kept the Cougars scoreless deflecting two shots.
Lassen goalie Jordan Brown didn't have such an easy time of it. The Eagles fired 10 shots at the Cougar goal and although Brown was able to save seven, the three that got by won the game for the mighty Eagles.
The Lassen match was the last scheduled game for the FRC men who ended the season with an 11-4-3 overall record and a conference record of 8-2-2. The Eagles loved their home field, winning 6-1-1 at home and 5-2-2 away. Overall the Eagles scored 49 goals this season in 18 games averaging 2.72 goals per game.
If enthusiasm of the fans is the measure, the Eagles were number one all season long. From beginning to end, townsfolk, fellow athletes, students, teachers and even a giant red lobster, all came out in the rain to support their team.