High School basketball season around the county is now concluded. It has been a great season filled with thrilling victories, defeats and a few surprising turnovers. Rivalry matches and championship games brought extra energy to the court, as they always do, and fans witnessed tremendous athletic effort and perseverance.
Portola High
Portola boys' head basketball coach Tim Brubaker wrapped up the season saying, "I liked where our team was the last eight to nine ball games. The boys worked hard and we were a much better team at the end of the season than we were at the beginning and at mid season. I'm sorry to lose Ricky [Johnston] and Austin [Griffin] to graduation but I'm really excited about the guys I have returning next season."
Portola girls' basketball coach Matt Compton said, "I feel fortunate to be associated with fine student athletes who continued to work hard to obtain their goals and always played with respect."
Greenville High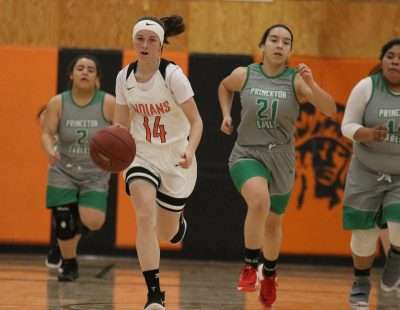 Greenville girls' basketball coach Bridgett Bustamante said, " I am sad to see the season come to an end. The girls' team worked hard and accomplished a lot of goals we had set as a team. We are sad to see seniors Rylie Botts and MacKenzie Brown leave the team, but we have high hopes for the upcoming freshmen Morgan Tyler and Emily Smith. Our team would like to say to the community, thank you for all the support! Stay tuned as we are coming back strong again next year! Go Indians!"
The Greenville boys were coached by Jon Kusel. "It was a good learning year for us. Illness and injuries prevented us from fulfilling all of our expectations. It was tough to get our full starting line up out on the court. We were pleased to finish second in our league and are already excited for next year, as most of our players will be returning. We will certainly miss our graduating seniors, team captain Tristin Clark and Colton Lawson. It was just a really good learning year."
Chester High
Advertisement
Chester head boys' basketball coach Aaron Hardesty said, "It was a fun season with a good group of players. They worked hard every day to improve. I really enjoyed working with each of them this season." Coach Hardesty added, "… we had great families that helped every step along the way and supported our program all season long."
Coach Mimi Fay led the Chester girls. The Vols were victorious over Westwood, Maxwell, Big Valley, Los Molinos, American Christian Academy and Mercy. They even beat NSCIF second place finishers Greenville Indians early in the season for a dynamic rivalry match. The CHS team will say goodbye to two seniors, Ashlyn Olah and Lyric Quinn. That will leave two juniors, Bailey Redican and Skylar Jansen, as the elders on the Volcano team. Three CHS sophomores, Jordan Smith, Sierra Clark and Chancey Juska, round out the Vols with a wild card, high-scoring freshman Samantha Miller, making a great base for next year's CHS girls' team.
Quincy High
Quincy girls' basketball coach Terry Baumgartner said, "We are extremely proud of our girls and the development they showed on the court. Nobody expected them to be very good because we were so young and they surpassed everyone's expectations. To run a high school JV and varsity program with 14 girls, 12 of them freshmen, is really impressive and these girls worked really hard all year long. We finished the season on a strong note by going to the playoffs so the future looks bright for the lady Trojan basketball program."
The Quincy boys' basketball team was coached by Valerie Campa. "This was a very successful season for the Trojans. Next year should prove to be just as successful if not more with the returning of impact players Cameron Dingel, Luis Santos, Brady Peay, Johnny Pini and Quinn Holzer," said Campa. "Combined with leadership from Brayden McAllister and the very talented incoming sophomore class, it's highly probably the Trojans will make a competitive run for the section championship next year. We will certainly miss seniors Noah Hardee, Dominic Rinetti, Sein Yoacham, and (Miguel) 2J Williams, but they helped form the strong foundation of players that will help Quincy succeed in the future. I am definitely putting my hat in the ring to coach this talented group of young men next year."
Campa added, "The support from AD Aleece Oravetz and principal Erin Mongiello was also a huge factor in the Trojans strong showing this year. These ladies were amazing and I look forward to continue working with them to elevate the basketball program at Quincy."
Plumas Charter
The Badger team has had a season to be proud of, winning half of their games, 6-6. The 2019 season showed tremendous growth since the team debut last year (0-6). The boys built stamina during the 2019 season and will be great fun to watch next year.
Before we say goodbye to a great season, and a promise of much to look forward to next year, let's take a last look at some great games and players.