Longboard racers enjoy lots of white stuff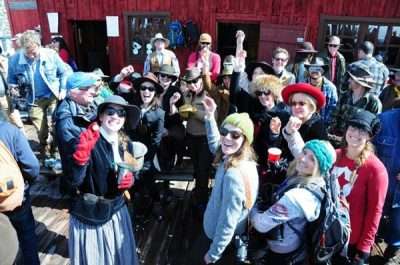 The 2018 World Championship Longboard races, organized by Plumas Ski Club, went off without a hitch. There was plenty of snow on the course for a day of competitive skiing fun.
"With such amazing new snow and great weather, it was just fantastic to have so many excited racers and spectators come to the races!" said enduring longboard enthusiast, Rob "Rats Race" Russell.
The March race was the only event to take place this year as there wasn't enough snowfall for the January or February races.
The slopes were packed Sunday, March 18, with fans dressed in 1860s attire ready for racing excellence.
"Probably 800 to 1,000 folks," said Plumas Ski Club President Don Fregulia, estimating the size of the crowd.
Thirty-seven racing men and 12 speedy women competed for world championship titles. With plenty of racers taking part in the competition that started at noon, the event continued throughout the afternoon on the clear, bright white of Johnsville Historic Ski Bowl.
"Some of us old 'gray beard types' thought of now-passed ski clubhero Phil Intorf and famed racer Johnny Redstreake," said Russell, "knowing they would have been very happy and proud to see so many people back at the historic community ski bowl."
Moon's Restaurant owners Mike and Lisa Kelly were on hand filling the air with savory scents freshly wafting from a hot grill. Mike "Mad Dog" Kelly is a former longboard podium champ and bragged to his wife Lisa that he won third place in 2015. Since those winning runs, "He has turned 'grill master' so as to not lose his edge," said the grill master's wife and talented event photographer. Special brews and hot cocoa filled the hands of spectator and racers, as they observed competitors "flying" down the hill. This was "one of the biggest crowds in the 26-year history of the Historic Longboard Revival Series," said Russell.
A concoction called "dope" is the only wax permitted on race day and it is slathered on rustic wooden skis to speed the trip down the racecourse hill. It is only a stick, similar to an old broom handle, or a shortage of dope that slows racers at the finish line.  "Folks were pretty on top of it," said Fregulia, "no major crashes."
Russell said, "One of the coolest things for me and us 'old-timers' was to see all the excited younger people getting involved as ski builders, racers, and supporters of the 'right honorable' longboard races and the historic Plumas Ski Club."
There was no official contest for period attire or costume, but best outfit went to Rob Russell in president Fregulia's opinion.
Dress mimicking the 1860s is greatly encouraged for the day. However, a green spandex suit worn by Quincy High School ski team coach Max Egloff did add a splash of color to the hill and showed considerable leftover leprechaun spirit. Maybe next year, the spandex will be accompanied by a pair of 1860s knickers and a miner's vest.
2018 World Championship Longboard race results
Men: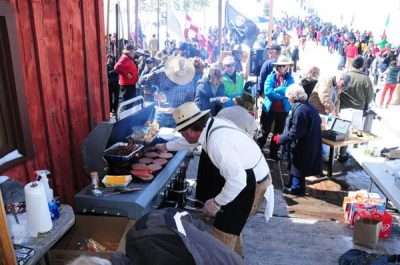 1st – Jackson Webster
2nd – Adam Henriques
3rd – Dale Lambert
Women:
1st – Alice Berg
2nd – Lexi Decoe
3rd – Gina Luciano