Triple Crown sparkles Aug. 2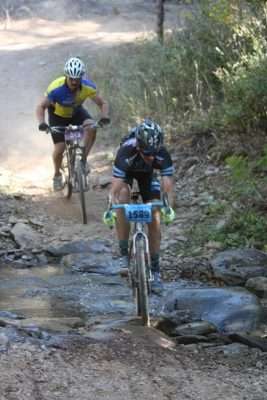 The first jewel of the gravel grinder Triple Crown, the Lost and Found, took place the first week of June at Lake Davis. The next biking gem is the Downieville Classic, which begins tomorrow, Aug. 2, and runs through Sunday, Aug. 5.
That race is sold out, but events will run all weekend in Downieville, including live music, a log pull, movies, a breakdancing competition, dozens of vendors and bacon avocado pancakes. Who wouldn't love that?
The third and final jewel in the crown is the Grinduro, which centers on Mount Hough in the Quincy area, with a home base at the Plumas-Sierra County Fairgrounds, Friday through Sunday, Sept. 28 through 30. Grinduro Village at the Fairgrounds will open at noon Friday and close around 3 p.m. on Sunday. Local talent Johnny Walker will provide Fireside Music at 7 p.m. on Saturday. Registration to compete in the race is sold out both for the full course and for the Grindurito short course. There are still some spots available for tandem riders as well as camping and RV spots.
Bike shuttles
Advertisement
Feather River Outdoors and Yuba Expeditions provide shuttle services for adventurers utilizing the many single-track and bike-friendly trails that zigzag throughout the Sierra.
Transports are available to Mills Peak near Graeagle, Quincy's Mount Hough and various peaks around Downieville. Yuba Expeditions specializes in the latter, offering a monster day with their "Triple Down Day of Decent," which includes the Downieville Downhill — a descent of 12,000 vertical feet over 40 miles.
Yuba Expeditions guide services to Elwell, Jamison and other singletrack courses can be had or riders can simply grab a ride to the top. Yuba Expeditions can be reached at 283-3010.
Mount Hough trails are some of the newest additions to mountain bike treks in the county. Quincy's Feather River Outdoors can be reached for rentals and rides at 283-0455. Its regular schedule includes two trips a day, except on Mondays, and three trips on Tuesday and Saturday. The schedule can be viewed on featherriveroutdoors.com.
Yuba Expeditions partners with Sierra Buttes Trail Stewardship, which has taken on the maintenance of many trails open to the public. SBTS' stated mission is building sustainable, recreation-based communities through stewardship, job creation and world-class events, and providing quality outdoor experiences through trail construction and maintenance in the Lost Sierra. Results of the handiwork of a host of volunteers trained and supervised by compassionate and skilled SBTS staff is evidenced throughout the county.
Many of the volunteers are mountain bike lovers who are rewarded for hard work during the day by an afternoon shuttle up to the top to enjoy the fruits of their labor. Dialing in the trails before or after each of the three races of the treasured Triple Crown occurs each year. The trail maintenance days are titled "Epic" and center around a weekend of camping and camaraderie. Information on involvement can be found at sierratrails.org.
The next trail maintenance day is the Downieville Epic Weekend on Friday through Sunday, Aug. 24 through Aug. 26. Fifty-five folks are offered camping, riding and trail building along with fishing and swimming in Alpine lakes.