Volcanoes beat Vikings 3-0
The Chester volleyball team was victorious over its Herlong neighbors in a three-game shutout with the scores 25-17, 25-19 and, a super close 26-24.
The girls will play the Tigers in Portola tonight, Sept. 26, at 6 p.m.
October brings a host of games with the team facing opponents American Christian Academy Eagles from Redding, Bulldogs from Los Molinos, Warriors from Mercy, Redding Christian Lions, Herlong Vikings again, Burney Raiders and the last game of league play will be a rematch with the Los Molinos Bulldogs on Thursday, Oct. 18.
The Chester team consists of five seniors: Hailey Clark, Emily Twitchell, Kaela Wiseman, Markie Willhoit and Faith Clarke. Only one junior is on the team, Kassie Nine-Squire. Two sophomores play for the Vols: Austin Arredondo and Savanna Quinn. Four freshman lay the foundation for a winning Volcano future, Samatha Miller, Kelsey Clark, Julie Polanco and Chloe Wiseman.
The Volcano girls' volleyball team stands 8-12 overall with a 0-2 league record. With a 29-game schedule there is still plenty of time to see the Volcanoes in action.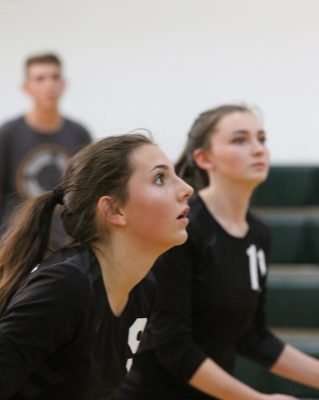 Volcano volleyball
10/01 at Redding
10/02 vs. Los Molinos 6 p.m.
10/04 vs. Mercy 6 p.m.
10/09 vs. Redding 6 p.m.
10/10 at Herlong
10/11 at Burney
10/18 at Los Molinos