Winners from Triple Crown shine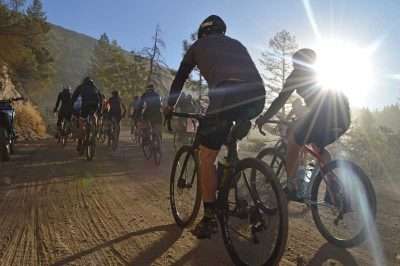 What an abundance of outdoor activities the Sierra Buttes Trail Stewardship crew offers to the "gravel grinder" bike riding public.
SBTS drew thousands of people to Plumas and nearby counties as it hosted three races of worldwide fame in 2017: Lost and Found, Downieville Classic and the Grinduro. The three-race series offered unique experiences to endurance bike riders and that is probably why the events continue to grow in popularity each year.
The first race takes place the first week of June. It is called Lost and Found and circles the area around Lake Davis. The 100-mile route includes a 7,000-foot elevation gain and is on an 80 percent dirt track. There are two shorter course options available, 30 and 60 miles, for those who want to warm up to the full century.
The second race is the Downieville Classic, which is the oldest of the three, and takes place the first week in August. Race features include a milder 4,413-foot ascent and a breezy 5,692-foot descent, although truth be told, there is nothing mild about that climb.
Mountain Circle Family Services in Greenville initiated a conditioning event in 2017 in the third week of September named the "Bear Growl Century Ride." Offering gravel and mountain trails similar to those in the SBTS competitions, the ride vs. race Bear Growl is indeed a timely conditioning ride as it occurs one month before the final "jewel" in the Triple Crown commences.
The Bear Growl designated trail travels 101.3 miles around Indian Valley roads and the surrounding mountains with a 5,998-foot elevation gain and a 6,003-foot decent. It took place Sept. 23. The ride is not timed and not run as a race, but offers over 100 miles of practice in the same type of terrain as the races.
The final race of the SBTS Triple Crown, Grinduro, travels on and around Mount Hough between Taylorsville and Quincy the first weekend of October.
Matt Young of Marin competed in all three of the Triple Crown races. He noticed the need for a conditioning ride when he commented during the Grinduro how much he noticed the effects of higher elevation.
In 63 miles, the American Valley Grinduro course takes riders up the biggest elevation gain of the three races, 8,200 feet. The exertion and athletic ability of the competitors is … well, extreme.
In 2018, Lost and Found will start June 2 and the Downieville Classic begins Aug. 2. Both events include activities that run through the weekend.
The 2018 Bear Growl Century and Grinduro ride dates have not yet been posted.
Triple Crown winners and points
Daniel Hoeppner 490
Courtney Sullivan 555
Erik Nelson 490
Amanda Schaper 555
Mike Castaldo 490
Tera Muir 555
George Hope 515
Professional winners
Carl Decker 515
Katerina Nash 555